list of different types of clothing styles for guys or men. Here is the list of all daily used vocabulary words related to men's wear.
Men's wear clothing Vocabulary List
Video Lesson
Bathrobe
Belt
Blazer
Boots
Bow tie
Business shoes
Cap
Cardigan
Cargo pants
Flip flops
Glasses
Gloves
Handbag
Hawaiian shirt
Jacket
Jeans
Jumper
Long-sleeve top
Polo shirt
Pullover
Scarf
Shirt
Shorts
Singlet
Sleeveless shirt
Socks
Sport shoes
Suit
Sunglasses
Sweater
Swimsuit
Tie
Trench coat
T-shirt
Umbrella
Underpants
Vest
Waistcoat
Wallet
Watch
The PDF of this lesson at the end of this lesson.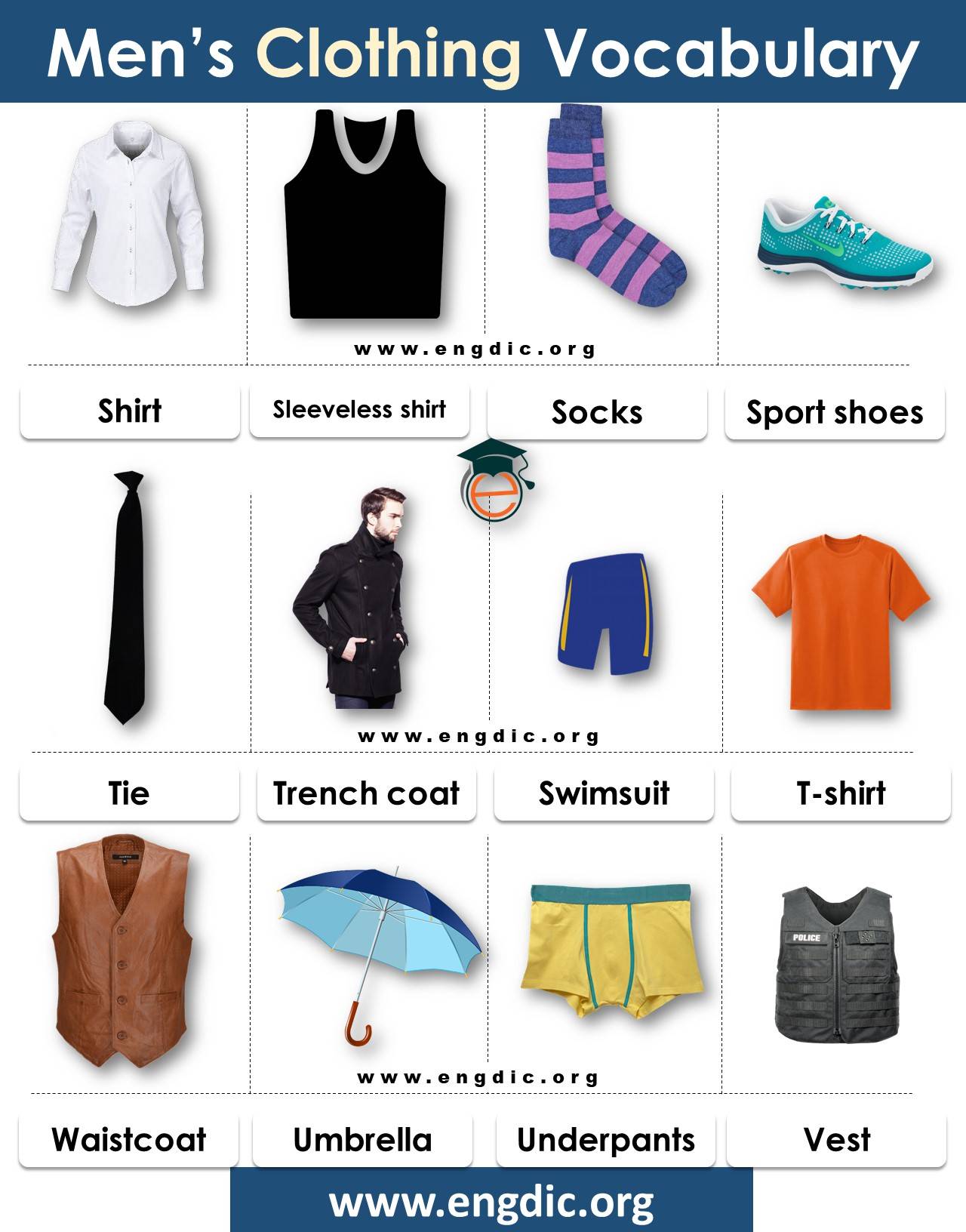 Men's Foot-ware
boot / boots
Flip flops
High heels (ladies shoes)
Plimsolls
Shoe / shoes
Slipper / slippers
Sock / socks
Trainer / trainers
wellington / wellingtons
List of different types of clothing styles for guys
It is a type of loose fitting garment, also used for house wear. Usually made up of toweling or some kind of absorbent fabric.
It is made up of leather strip used to hold the pent. It is tied against the waist.
Anything that is used to cover your chest.
Informal shoes that can be used to wear inside and outside of house.
A little tie which is tied on neck it looks like a butterfly.
They are the formal shoes used in meetings and office. Also in schools and colleges.
It purpose is to cover your head and it saves you from the sunlight.
Usually used in winter to cover the body from cold.
Casual pants which can be wear in home or in parks and markets.
Simple glasses which are normally medically recommended to have a clear view.
Used for the safety and protection of hands.
Used to carry office files, laptop and other accessories.
Colorful shirt.
Made up of leather usually wore in winter.
The clothes which covers the lower portion of our body are jeans.
It is colorless dress. This is American name of this dress.
A shirt or sweater with long sleeves is known as long sleeves top.
This shirt is usually wore by polo players. It has a collar and half sleeves.
It is a dress to wear in place of coat.
Scarf is used to save your neck from cold. You can wear this just for the sake of fashion.
It may be sleeveless or of half sleeves. It is just clothes to cover upper part of our body.
These are used in summer to be relax and comfortable.
It is sleeveless dress usually wore in summer season.
A shirt having no sleeves.
Used to cover our feet.
The shoes which are especially designed to play are sports shoes.
Formal dress.
Normally they are of black color.
A dress wore in winter to cover the upper body portion.
A suit or short which is used while swimming.
Tied around neck.
It is a sort of long coat.
Shirt having t shape. Or We can say half sleeves.
It was used in old times to protect from sunlight and rain. They are still used these days.
Clothes used to cover private parts of the body.
It's a sort of coat used to cover the chest and belly.
It is sleeveless dress. A well-known dress of Pakistan and India.
It is made up of leather. Used to put money and other accessories like debit card, identity card and student card etc.
The device that tells us time and placed over wrist, also known as wrist watch.