Are you overwhelmed by the seemingly endless list of kitchen tools and appliances that you need to get your cooking game up to speed?
Fret not! With this comprehensive kitchen utensils, tools, and appliances name list with pictures, you can easily identify what each item is used for – essential knowledge if you're trying to turn your humble abode into a home-chef kingdom.
Whether it's a food processor or whisk, a grill pan or pot holder – here we have everything from basic cookware essentials to the modern gadgets of the culinary world – so make sure to read through our complete guide below.
This kitchen vocabulary is very important not only for girls and women but also for men. These words are used in our daily routine of speaking and writing.
Note: Download the PDF BOOK of This Lesson At the End!
Common Kitchen Utensils and Tools
Here is a list of the 20 Most Common Kitchen Utensils and tools:
Spatula
Wooden spoon
Slotted spoon
Ladle
Tongs
Whisk
Measuring cups
Measuring spoons
Mixing bowl
Colander
Strainer
Grater
Can opener
Bottle opener
Corkscrew
Peeler
Kitchen shears
Cutting board
Chef Knife
Paring knife
Discover More:
Kitchen Utensils Names
Here is the list of Useful Kitchen Utensils Names:
Spatula
Ladle
Slotted spoon
Mixing bowl
Whisk
Tongs
Pastry brush
Corkscrew
Potato masher
Garlic press
Pizza cutter
Grater
Kitchen shears
Meat tenderizer
Ice cream scoop
Cheese slicer
Egg slicer
Melon baller
Apple corer
Fish scaler
Colander
Sieve
Rolling pin
Salad spinner
Mandoline
Basting brush
Measuring cups
Measuring spoons
Food processor
Mortar and pestle
Nutcracker
Poultry shears
Rolling pastry cutter
Spoon rest
Wok spatula
Rice spoon
Ice tongs
Carving knife
Cake slicer
Bread knife
Butter knife
Gravy ladle
Soup ladle
Skimmer
Turner
Vegetable peeler
Apple slicer
Corn stripper
Meat thermometer
Digital kitchen timer
Pastry wheel
Pastry blender
Egg separator
Lemon squeezer
Olive oil dispenser
Honey dipper
Pizza stone
Oven mitts
Kitchen Tools Names
Here is the list of Useful Kitchen Tools Names in English:
Cutting board
Chef Knife
Santoku knife
Bread knife
Paring knife
Utility knife
Steak knife
Honing steel
Knife sharpener
Meat cleaver
Carving fork
Kitchen scissors
Kitchen tweezers
Meat grinder
Pasta maker
Garlic peeler
Onion chopper
Meat slicer
Mandoline slicer
Kitchen scale
Whetstone
Food mill
Mortar and pestle
Cheese grater
Lemon zester
Pastry bag
Decorating tips
Cake stand
Bread proofing basket
Dough scraper
Pastry cutter
Pastry blender
Pastry wheel
Pastry brush
Decorating comb
Decorating spatula
Cake leveler
Cake turntable
Cake lifter
Silicone baking mat
Parchment paper
Oven thermometer
Candy thermometer
Kitchen timer
Digital kitchen scale
Cooking torch
Grilling tongs
Meat thermometer
Instant-read thermometer
Sous vide machine
Kitchen blowtorch
Immersion blender
Blender
Food processor
Slow cooker
Pressure cooker
Hand mixer
Stand mixer
Electric can opener
Electric knife
Kitchen Appliances Names
Here is the list of Useful Kitchen Appliances Names in English:
Refrigerator
Freezer
Oven
Stove
Microwave
Toaster
Coffee maker
Espresso machine
Tea kettle
Electric kettle
Blender
Food processor
Slow cooker
Pressure cooker
Air fryer
Deep fryer
Waffle maker
Pancake griddle
Electric grill
Sandwich maker
Toaster oven
Juicer
Citrus press
Ice maker
Ice cream maker
Popcorn maker
Hot water dispenser
Rice cooker
Bread machine
Sous vide machine
Food dehydrator
Electric can opener
Food saver
Vacuum sealer
Dishwasher
Trash Compactor
Garbage disposal
Range hood
Wine cooler
Beverage refrigerator
Beer dispenser
Soda maker
Water filtration system
Instant hot water dispenser
Electric knife sharpener
Kitchen TV
Smart kitchen system
Air purifier
Electric food warmer
Food mixer
Ice shaver
Electric pressure canner
Smoothie maker
Electric wine opener
Electric milk frother
Electric salt and pepper grinder
Electric vegetable steamer
Electric smoker
Electric fondue pot
Cooking Spoon Names:
Ladle
Slotted spoon
Wooden spoon
Silicone spoon
Soup spoon
Spatula
Skimmer
Turner
Pasta spoon
Serving spoon
Slotted turner
Fish spatula
Mixing spoon
Perforated spoon
Basting spoon
Rice spoon
Grapefruit spoon
Iced tea spoon
Demitasse spoon
Caviar spoon
Sauce spoon
Butter spoon
Egg spoon
Muddler spoon
Honey dipper
Jam spoon
Gravy ladle
Straining spoon
Chinese soup spoon
Sugar spoon
Frying Tools Names:
Fry pan
Wok
Deep fryer
Skillet
Saute pan
Tongs
Slotted spatula
Splatter screen
Spider strainer
Fish spatula
Frying basket
Oil thermometer
Bacon press
Egg ring
Tempura rack
Fryer ladle
Batter dispenser
Fish fryer
Breading tray
Fryer brush
Oil pot
Frying sieve
Frying ladle
Frying ladle with draining holes
Frying spoon with slots
French fry cutter
Fry cutter
Onion blossom cutter
Fried chicken rack
Dumpling press
Mixing Tools In the Kitchen:
Stand mixer
Hand mixer
Immersion blender
Food processor
Blender
Potato masher
Whisk
Wooden spoon
Rubber spatula
Pastry blender
Dough whisk
Egg beater
Grater
Garlic press
Nut chopper
Salad spinner
Mandoline slicer
Cheese slicer
Meat grinder
Mortar and pestle
Citrus juicer
Lemon squeezer
Olive oil dispenser
Honey stirrer
Herb chopper
Salt and pepper grinder
Ice cream scoop
Cocktail shaker
Bar spoon
Names Of Cookers:
Gas stove
Electric stove
Induction stove
Hot plate
Slow cooker
Pressure cooker
Rice cooker
Steamer
Griddle
Toaster oven
Microwave oven
Convection oven
Rotisserie oven
Grill
Smoker
Dutch oven
Waffle maker
Panini press
Sandwich maker
Air fryer
Sous vide machine
Double boiler
Tandoor oven
Hibachi grill
Raclette grill
Fondue pot
Popcorn maker
Yogurt maker
Chocolate fountain
Donut maker
Baking Utensils Names:
Mixing bowl
Measuring cups
Measuring spoons
Sifter
Pastry brush
Rolling pin
Dough cutter
Dough scraper
Cookie cutter
Biscuit cutter
Pastry wheel
Bench scraper
Whisk
Pastry bag
Piping tip
Oven mitts
Cooling rack
Pastry blender
Cake tester
Cake lifter
Decorating comb
Cake turntable
Flour shaker
Pastry mold
Doughnut cutter
Bread lame
Pizza cutter
Tart tamper
Tart pan
Baking stone
Kitchen Utensils and Tools Names With Pictures
Napkin
What is Napkin? A napkin is a square or rectangular piece of cloth (or paper) used during meals to wipe one's mouth and fingers.
Bin/ Dust Bin
What is Dust Bin? A dust bin is a container used to collect waste, typically found in an indoor area. Dust bins are commonly made from plastic, metal, or glass – either empty or full.
Apron
What is Apron? Apron is an item of men's or women's clothing, worn over clothes while doing housework. An apron hangs from the front of the body, covering the torso. It usually contains pockets to hold items. The straps are tied behind the back.
Oven Glove/ Oven Gloves
What are Oven Gloves? Oven gloves are special kitchen gloves that can protect your hands from hot surfaces, like ovens. They're usually made of thick fabrics with rubber grips on the palm and fingers, so they provide good insulation against heat.
Kitchen towel / Tissue Paper
What is a Kitchen towel? A kitchen towel is a piece of cloth used to dry dishes and clean up spills. It is made from cotton and can be bought at many stores. Usually, one side of the kitchen towel has loops that help absorb liquid or grease better than regular towels. Kitchen towels are available in different colors and sizes.
Kitchen Paper
What is Tissue Paper? Kitchen and household tissue paper is used for a variety of purposes, most commonly as a cleaning tool. However, it can also be used as an ingredient in food. Tissue paper comes from the pulp of trees such as spruce or pine. Pulping creates long fibers that are very absorbent and create strength when submerged in water. These fibers are made into fine tissue paper by using a wet pressing process that allows the water to evaporate quickly, making it very absorbent. The tissue paper is then dried and cut into sheets, which are used in kitchens or sold as decorative gift wrap.
Appliances in the Kitchen
Dish Washer
What is Dish Washer? A dishwasher is a home appliance that cleans dirty dishes for you. They are commonly used in homes and places like restaurants where many people use them. The dishwasher runs by heating water which dissolves the dirt off of the dirty plates, bowls, pots, pans, etc. The water then rushes out because it contains soap bubbles. Clean dishes then dry themselves using hot plates. It is very useful for people who don't want to spend time cleaning their dishes, but it can be expensive because you have to buy the dishwasher and the water.
Deep Fryer
What is Deep Fryer? Deep fryers are cooking appliances used to deep frying food in hot oil. Deep frying is a cooking method in which food is submerged in hot oil or fat, such as in an oil vessel (a deep pan), and may be cooked either partially or fully.
Gas Stove
What is Gas Stove? A gas stove is an oven that is heated by gas. It looks like the one in the picture. How does a Gas Stove work? A gas stove has an open flame that heats up the air inside of it, and it creates heat for cooking. The two knobs on top are to control how much air goes in.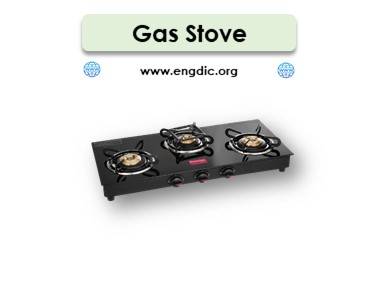 Refrigerator
What is Refrigerator? A refrigerator is an appliance that lowers the temperature of its inner chamber to keep food fresh for longer. It works much like a thermos, by removing heat from the chamber and moving it elsewhere.
Salad Spinner
What is Salad Spinner? A salad spinner is a small handheld device that has a handle and cup with holes where the user puts washed vegetables or greens. The user then spins the cup either by winding it up, winding it down, or turning its handle rapidly. As this happens, any water on the vegetables or greens is tossed out through the holes in the cup.
Kettle
What is Kettle? The kettle is a term for an electrical appliance that boils water. They are used to make tea, coffee, hot chocolate, and sometimes other drinks like ramen noodles. Kettles can be heated by an open fire, stovetop element, or by plugging them into the wall. When choosing a kettle it's important to consider how fast you want it to boil and how quickly you want the water to cool down.
Blender
What is Blender?  A blender is a kitchen appliance used to prepare drinks and food. It crushes, mixes, or blends food and drink by means of a rotating blade. How does it work? The motor drives the cutting assembly, which consists of sharp rotating blades that can move at high speed. The fixed blades act like an eggbeater, but they rotate around a central, vertical axis. The blades extend from the bottom of the container up into the chamber surrounding the blades. That space is called the blending jar or pitcher.
Microwave Oven
What is Microwave Oven? A microwave oven is a cooking appliance that heats and cooks food by exposing it to electromagnetic radiation in the microwave frequency range. This induces polar molecules in the food to rotate and produce thermal energy in a process known as dielectric heating. Microwave ovens heat foods quickly and efficiently because excitation is fairly uniform in the outer 25–38 mm of a homogeneous, high water content food item; however, the microwaves enter the food item from all sides and unevenly heat dry foods wrapped in paper or thin plastic bags.
Oven
What is Oven? An oven is a kitchen appliance used for baking and roasting. How do Ovens work? Ovens work by using the elements to heat up, which then transfer that heat into whatever food you're cooking. The standard home oven uses natural gas or propane as the source of flame; an electric oven will use either an electric heating element or an electromagnetic coil.
Lemon Squeezer
What is Lemon Squeezer? A lemon squeezer is a small kitchen tool used mainly for squeezing juice from lemons or limes. It consists of two pieces, the outer cup, and an inner cog. The larger piece can be held in one hand with a half-cut lemon resting inside. The other piece fits over the top and when pressed down, compresses the fruit forcing the juice out through the tiny holes in the cog.
Mixer
What is Mixer? A mixer is a kitchen appliance that mixes or beats food ingredients. Mixers vary in their power and attachments: small mixers can handle light jobs such as whisking eggs and whipping cream, while larger and more powerful models are used to beat thick cookie dough and heavy mashed potatoes. Large stand mixers can also be used to knead bread dough, which is a heavy-duty process. KitchenAid mixers are a brand of stand mixer, as well as other brands such as Sunbeam and Hamilton Beach.
Meat Mallet
What is Meat Mallet? A meat mallet is a blunt object, often wooden or metal, used to prepare ground meat. Meat mallets are typically made out of wood, but some may also be composed of stainless steel, cast iron or aluminum. The tool has two different flat ends on it; one end (often square) will have no sharp edges while the other will have sharp, serrated teeth.
Measuring Spoons
What is Measuring Spoons? A measuring spoon is a type of cutlery typically used to measure or scoop an amount of liquid or bulk solid cooking ingredients. They usually come as a set of metal spoons with different sizes, ranging from 1/8 tsp to 1 tbsp. For certain dry ingredient measurements, there are also nested measuring cups that have the same markings on them.
Potato Peeler
What is Potato Peeler? The Potato Peeler is a manual kitchen tool that is used to quickly and easily remove the skin from potatoes before cooking. In addition, it also works on other foods such as carrots or apples. It can be made from metal, plastic, ceramic, or glass. Metal types tend to be heavier while plastic tends to have a sturdier grip.
Cleaver
What is Cleaver? A cleaver is a large, rectangular knife that is used to chop meats and vegetables. It has a slight curve on one side of the blade. Think about cutting through bone with butter! Since it's sharp on both sides, you can use it for not only chopping but also crushing or slicing.
Butter Knife
What is Butter Knife? A butter knife is a type of flatware that has a dull edge and rounded tip. To use it, the dinner guest spreads the solid food on his or her plate with it. A butter knife is most commonly used to spread whipped butter onto warm toast. It is also widely used for spreading condiments onto sandwiches, crackers, apples, and bread. The rounded tip of the knife prevents it from piercing any contents on a sandwich or snack.
Peeler
What is Peeler? A peeler is a kitchen tool used to remove the skin or outer layer of vegetables and fruits. Peeler is a kitchen tool used to remove the skin or outer layer of vegetables and fruits. A peeler is a small, lightweight blade attached to a handle that comes in various shapes and sizes.
Pepper-mill
What is Pepper-mill? A Pepper-mill is a small kitchen appliance that allows one to grind pepper by turning the handle. What does for Pepper-mill? A Pepper-mill's primary purpose is to grind pepper, but it works with many spices too, such as garlic powder, paprika, etc.
Pizza Cutter
What is Pizza Cutter? A pizza cutter is a kitchen tool used to cut pizzas, often into pie-shaped wedges. It consists of a long sharp blade with a handle on one end and a small flat surface on the other end.
Can Opener
What is Can Opener? A can opener is one of the most basic utilities you need in the kitchen. It's a device that opens cans without using your teeth or other body parts. The can opener is usually attached to either a utensil holder or an object like a refrigerator, but can also be found free-standing, meaning it has its own stand and doesn't attach to anything else. There are manual can openers that require human strength or electric can openers that require electricity.
Cake Slicer
What is Cake Slicer? A cake slicer is an instrument used to slice off thin, even pieces of a cake. The slicer comes with sharp blades that are attached together by rods. After one uses the slicer to cut off enough slices, they are then able to release the rod locking system and remove it from underneath their cake. Some people also use these slicers to slice other items, such as cheese or meat. Cake slicers are usually made of plastic, metal, or wood. The main purpose of a cake slicer is to be able to cut the cake into equal slices every time.
Egg Slicer
What is Egg Slicer? An egg slicer is a tool used to slice soft-boiled eggs, vegetables, and other items. It consists of two serrated plastic rings which are placed on the top and the bottom of an egg or piece of food. It can be adjusted in order to obtain slices of different thicknesses.
Funnel
What is Funnel? A funnel is used to transfer liquids or powders from one place to another, usually by gravity. Funnels are also used in cooking to pour food into narrow containers.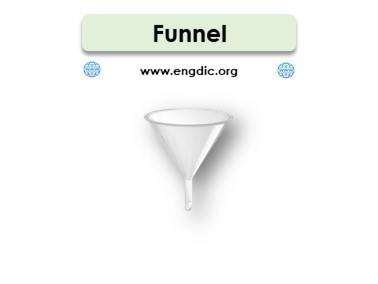 Fork
What is Fork? A fork is a long-handled flat utensil with prongs at one end used to lift food to the mouth or to hold food steady while it is cut. Typically, forks are used in servings of cooked pasta, salad, soup, and ice cream.
Grater
What is Grater? A grater is a kitchen appliance used to grate food. It is most commonly used for shredding cheese. The grater usually consists of four different surfaces that are perpendicular to each other, with the largest surface on top and the small at the bottom. The cheese block or vegetable will be placed on top of the main surface and held in place by hand or attached with a handle at its backside.
Garlic Crusher
What is Garlic Crusher? A garlic crusher is a type of kitchen device used to crush garlic cloves. It presses the clove between two metal prongs, which are usually serrated on one side so that they can be easily raked through the clove. As you press down on the garlic, it will crack under pressure into smaller pieces that are easier to chop or mince before cooking.
Knife
What is Knife? A knife is a tool used to cut things or provide a vital service. Many people in this world have a favorite type of knife. There are many types and models of knives, from pocket knives to hunting knives.
Kitchen Shears
What are Kitchen Shears? Kitchen Shears are kitchen scissors used to cut small items. Most often they are used to cut meat, but they can also be used for vegetables and other ingredients. They come in different sizes, with the most common ones measuring about 12 inches or so. The blades on kitchen shears are typically very sharp and strong, which allows them to cut through dense material like bone much more easily than standard scissors could.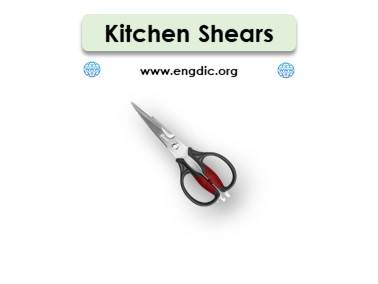 Kitchen Scissors
What are Kitchen Scissors? Kitchen scissors are a type of kitchen shears used to cut a variety of different foods. The handle and blades can be made out of a number of different materials, but stainless steel is the most common material for kitchen scissors. Stainless steel also ensures that the blade will not rust even if it comes in contact with water while cutting foods such as raw chicken or fish.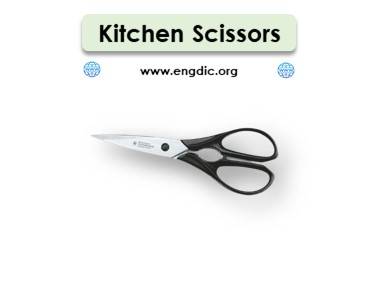 Bottle Opener
What is Bottle Opener? A bottle opener is a tool used to remove metal bottle caps from bottles. Metal bottle caps are no longer used; they have been replaced by ones made of one-part plastic and one-part aluminum.
Rolling Pin
What is Rolling Pin? A rolling pin is a cylinder with handles on both ends. It can be made from various materials including wood and silicone. Rolling pins are used to flatten dough for pie crusts, pastries and cookies, and to make decorative patterns on the surface of pastry prior to baking (it almost has no effect when applied after baking).
Steak Knife
What is Steak Knife? A steak knife is a special serrated knife used specifically for cutting steak. It can cut through tough, raw meat with ease and little frustration.
Ladle
What is Ladle? A ladle is a long-handled spoon used in cooking and often in serving liquids such as soup. It is usually made of metal, but some ladles are made of materials that resist heat or wear resistance. Such kitchen utensils can be found all over the world, and it is believed to be an important tool for cooking food.
Paring Knife
What is Paring Knife? A paring knife is a small, lightweight kitchen knife. It usually has a short blade that ranges from 2-6 inches in length and it can be straight or curved. Paring knives are used to peel, cut, slice, devein, prepare garnishes and make decorative cuts like brunoise.
Cutting Board
What is Cutting Board? A cutting board is a material used to hold and lay out ingredients when preparing meals. Cutting boards come in many different shapes, sizes, and materials. There are three main types of cutting boards: wood, plastic, and glass/ceramic. All types have their pros and con so it is up to the person using them to determine which type they prefer.
Corkscrew
What is a Corkscrew? A corkscrew is a device used to get the cork out of wine bottles. It consists of an outer body, worm, lever, and tread. The combined effort of this device aids in removing the cork.
Butter Knife
What is Butter Knife? A butter knife is a special type of table knife generally used for spreading thick spreads such as butter, peanut butter, or cream cheese onto bread and bagels. Butter knives are quite similar to other table knives but have rounded edges that allow for spreading instead of cutting.
Nonstick Pan
What is Nonstick Pan? Nonstick pans are made with a coating that prevents food from sticking to the pan while it is being cooked. This makes cleanup much easier and reduces the amount of oil or butter required when cooking.
Cooker
What is Cooker? A cooker is a device that produces heat for cooking or some type of food preparation. It can be powered by electricity, natural gas, petroleum, coal, wood, and even solar energy.
Bread Box
What is Bread Box? A breadbox is a box that keeps your food fresh. You can use it to store bread or other things that go well with bread, like cheese and crackers. The bread doesn't get hard or moldy because the box has special vents in it that suck out all of the oxygen. Bread boxes are often made of metal, but some people make them out of wood or plastic.
Butter Dish
What is Butter Dish? A butter dish is a type of container, often made of white porcelain, used to store butter at room temperature. Butter dishes are an essential part of table settings in some European countries.
Spice Container
What is Spice Container? A spice container is a small, air-tight container designed for storing spices. The containers usually have a removable lid and a mechanism for sealing out air. Spices were used in the past which made them an essential part of cooking back then. Today spices are still being used by people who want cooking to be more flavorful or do it the old-fashioned way.
Mixing Bowl
What is Mixing Bowl? The mixing bowl is a round container with a handle, typically made of metal or glass. It has vertical sides and an open top. The material the bowl is made from will determine many properties about it such as its weight, how easy it can be cleaned, and how durable it will be.
Frying Pan
What is Frying Pan? A frying pan is a flat, round cooking utensil that is most commonly used for frying. The word "frying pan" arose because the vessel is traditionally made of metal and can be roughly handled with bare hands without being too hot to hold.
Bread Basket
What is Bread Basket? The bread basket is a container used to store and serve bread or rolls. Most baskets are made of wicker, wood, rattan, or metal. Some are designed with air holes in the lid to keep cut bread from drying out. Bread baskets are usually placed on the table before the meal begins.
Bowl
What is Bowl? A bowl is a more general term than the word "dish," and describes any receptacle that holds food or other items for serving or eating. It can be made from metal, plastic, glass, ceramic, or wood.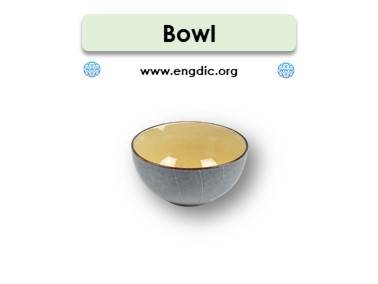 Bottle
What is a Bottle? A bottle is a kitchen appliance usually made of glass or plastic. It is used for the storage and preparation of liquids, including water, which makes it easy to drink cold water, especially during summertime.
Mug
What is Mug? A mug is a type of cup, often with a handle. Mugs can be made from china, metal, or other materials. They are usually used for hot drinks. The word 'mug' comes from the Middle English 'mugged', which came from the Scandinavian version of the same word 'musk'.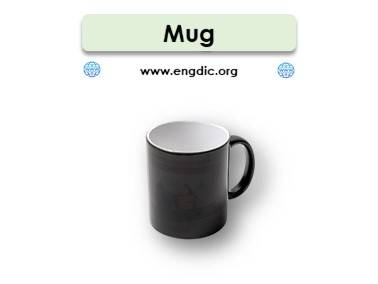 Cookware
What is Cookware? Cookware is any food preparation utensil or implements used in the process of cooking. It can also refer to the vessels, mostly pans, and pots, that are used for cooking purposes. Cookware is typically made from metal due to its suitability for conducting heat which is a necessity when preparing dishes in a heated environment such as an oven or stovetop.
Colander
What is Colander? A colander is a bowl-shaped kitchen utensil with holes in it used for draining food such as pasta or rice. It can also be used to rinse vegetables and fruit.
Casserole Dish
What is Casserole Dish? A casserole dish is a deep, round, wide cooking pot with handles and a tight-fitting lid. It enables foods to be cooked slowly on the stovetop or in the oven. A casserole dish is commonly used to make baked dishes like lasagna, macaroni and cheese, pudding, cobblers, and bread puddings.
Chopping Boards
What are Chopping Boards? Chopping boards are trays, traditionally made of wood or hard plastic, used in the kitchen to prepare food. A chopping board is usually associated with a chopping knife and might be used for cutting vegetables and carving fruit.
Hot Pot
What is Hot Pot? Hot pot is a traditional Chinese cooking method. A big pot of soup with mushrooms, meats, seafood, and vegetables is heated on a stove or near a fire. The cook then serves the food from this pot into smaller individual bowls of broth that the diners eat from with chopsticks or spoons.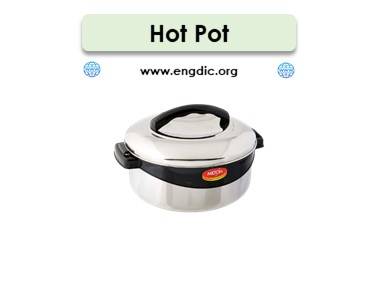 Measuring Cup
What is a Measuring Cup? A measuring cup, also known as a measuring jug or measuring beaker, is a kitchen utensil that measures volumes of liquid and dry ingredients.
This cup usually has scales marked on it to indicate the volume of the content in either milliliter (ml) or fluid ounces (fl oz). There are several different kinds of measuring cups.
Slotted Spoon
What is Slotted Spoon? A slotted spoon is a spoon with holes in it, used for cooking or serving. Slotted spoons are typically used to remove food from liquid, or transfer cooked items onto a plate or into an oven. A slotted spoon's holes allow water to drain away through the utensil while keeping the solid parts of whatever it is that you're cooking within the bowl of the spoon.
Pie Plate
What is Pie Plate? A pie plate is a circular-shaped, shallow dish that serves as a container for baking or serving pies. It can also have fluted edges. Pie plates are available in different sizes and materials, including glass, metal, ceramic, stoneware, porcelain, silicone, and disposable aluminum. The most common material used to make pie plates is metal.
Plate
What is Plate? The plate is a type of kitchenware that is generally flat and circular, used for decoration or serving food. Generally made out of ceramic or metal, there are also plates made out of wood.
It is one of the most common pieces of kitchenware, along with cutlery and bowls. It can also be referred to as a dish.
Serving Bowl
What is Serving Bowl? A bowl is used to serve food, especially a large one intended for serving a group. Serving bowls are designed to be used in the dining room while people are eating. They can also be used on some occasions at any other location where guests might gather. For instance, they sometimes accompany casseroles when they are brought over to someone's house for dinner.
Jug
What is Jug? A jug is a container that can hold and pour out liquids. The most popular type of jugs used in the kitchen is usually made from glass or plastic, though there are other types such as ceramic or enamel jugs (normally found decoratively).
Regular Spoon
What is Regular Spoon? A regular spoon is a large spoon, typically used as a cooking utensil. It measures between 8 and 14 inches long and has a bowl with a diameter of roughly 1-3 inches. The measurement from the underside of the handle to the top of the bowl can be between 4-7 inches.
Potato Masher
What is potato Masher? A Potato Masher is a kitchen appliance used for mashing potatoes. It consists of a handle connected to one or more wire loops that are pressed against the inside bottom of an item held in place by another container, usually a pot or bowl.
Cup
What is Cup? Cup is a type of measurement that can be used to measure volume or mass. It is often used in cooking recipes, but it can also be used for measuring items such as medicine, paint, and ink.
Cutlery
What is Cutlery? Cutlery is the general term for eating utensils. Some examples of cutlery are a fork, spoon, and knife. The word "cutler" comes from Middle English "counselor", which itself is derived from the Old French outlier 'knife-maker' or counsel 'knife'.
Baking Tray
What is Baking Tray? A baking tray is a flat, rigid container used in cooking to hold food items which are then baked. Similar to a cookie sheet or jelly roll pan, baking trays come in several sizes and shapes.
Mesh Skimmer
What is Mesh Skimmer? A mesh skimmer is a tool used to remove food particles from liquid. There are many different types of mesh skimmers for both domestic and commercial use, but they all work in the same way.
Mortar
What is Mortar? Mortar, also known as cement mortar or pointing compound, is a material used in construction to fill joints between bricks and blocks. It is usually made from sand or other fine aggregate held together by cement or hard lime and water and used for both plastering and masonry work.
Chopsticks
What are Chopsticks? Chopsticks are two sticks that are held between the fingers of one hand. They are used as an Asian cooking utensil, known as 'the fork of East.' Chopstick is also called 'Hon' which means 'Chinese people's particular eating tool'.
Glass
What is Glass? Glass is a material, made mainly of silicon dioxide (SiO) that has the appearance of transparent or translucent solids.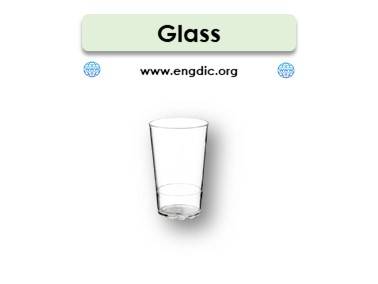 Dish Rack
What is Dish Rack? A dish rack is a container used to drain and/or air-dry dishes. It can be placed in the sink but also on a counter, or stand-alone. There are various designs to accommodate the various needs and preferences of the owner. Some have a place to hold a strainer.
Spatula
What is Spatula? A spatula is a cooking utensil that is used to mix, stir, scrape, and flip food items during the cooking process. It can be made out of a few different materials including rubber, plastic, or metal. Some are specially designed for specific types of food such as eggs or pancakes.
Perforated Spoon
What is a Perforated Spoon? A perforated spoon is a kitchen utensil that includes holes in it to allow liquid, such as water or broth to pass through the utensil while cooking. It can be used as a tool for stirring and draining.
Strainer
What is Strainer? A strainer is a kitchen tool used to separate some of the liquid or particles from another substance. A device can be best described as a "colander" when it has many small holes in the bottom and sides. The size of these holes determines how fine or coarse the product will be after it has been strained.
Pestle
What is Pestle? A kitchen tool used for crushing and grinding ingredients. This tool has a rough surface around the head of the device, where it can be held, with a smaller handle attached to this rough surface.
Jar
What is Jar? Jar is a small container used to hold food. Food jars have been in use since ancient times, but the modern form was made by Thomas Moore of London in 1858.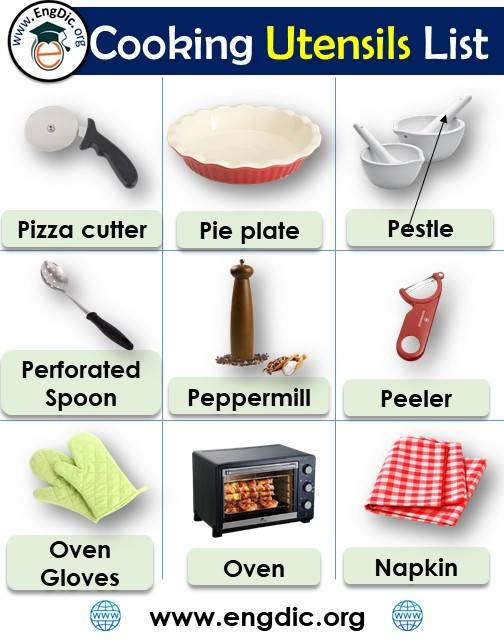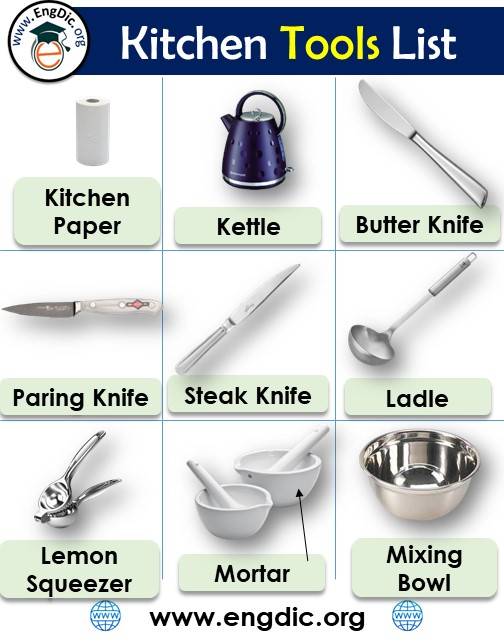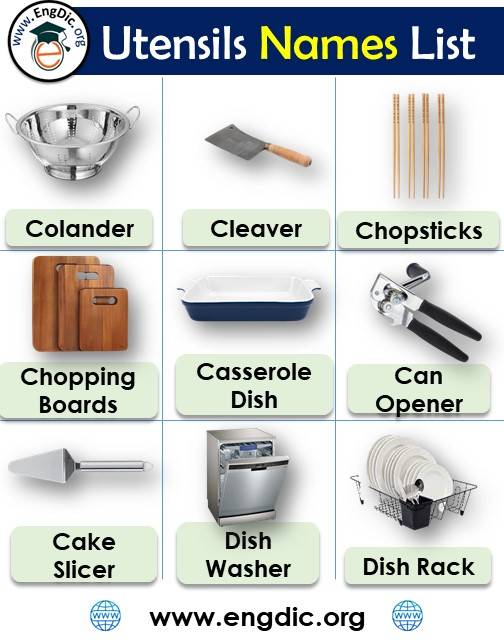 Download PDF
You can Get a PDF BOOK of Kitchen utensils, tools, and appliances names list with images and pictures.
Last updated on April 2nd, 2023 at 12:38 am