How to write an application for Job, Fee concession, leave & Character Certificate
Here basic the easy and complete method of writing an application is given you can write applications after reading these applications. Moreover you can copy our applications templates and samples.
Steps to write an Application
Writing an application is not a big task just you need a big of practice and follow these rules. When writing an application letter for a job, follow these steps to make sure you include information about yourself and your professional experience that will appeal to a hiring manager: 
Review information about the company and position

Use a professional format

Create the heading How to write an application

Address the letter to the hiring manager

Open the letter by describing your interest

Outline your experience and qualifications

Include aspects of your personality

Express appreciation

Close the letter
So now you know the rules on how to write an application, Go through these sample applications for more more clear concepts.
How to Write an application for a Job?
Sample of Application for a Job
Micchi Richard
Street 231, New York
micchi…….@……com
+783920478920
08/16/2021
Taha Ali
Hiring Manager
XYZ
New Clifton road, New York.
Dear Sir,
I was in a cultural festival at my friend's home. There I heard about your company my uncle told me about the nature of work there. I was strongly motivated and wanted to join. A day before I saw an ad on my facebook account that you are hiring a Mechanical Engineer for quality inspection.
I am graduated in mechanical engineering from XYZ university of engineering and technology. I worked in a manufacturing industry for 6 months. I have worked on different projects. I have supervised a team to achieve very outstanding targets in very short time.
Moreover, I'm expert of (AutoCAD, Solid works, ANSYS and some other engineering software). Your company is already achieving good goals if you hire me i can help you to achieve higher goals. I would glad to hear call from you.
Sinserely,
Micchi Richard
How to Write an Application for leave?
Sample of Application for Leave
The Head of  XYZ,
The address of your office or School.
Dear Sir,
I had a sudden attack of nausea after eating a burger with coca-cola, last evening. The doctor has diagnosed it as a case of food poisoning. I could not sleep the whole night because of vomiting. I feel very sick.
Kindly grant me leave for four days with effect from December 2. 
Thanking you,
Yours obediently,
Muhammad Ali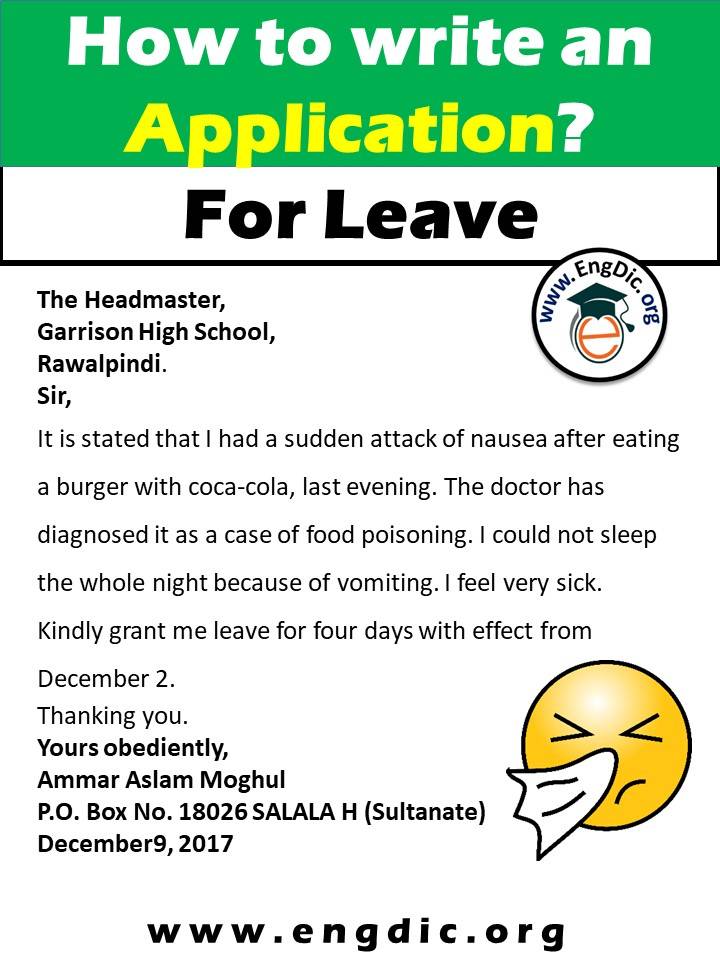 Also Read Our inspirational Stories.
How to Write an application for fee-concession/stipend?
Sample of Application for fee concession
The Headmistress/ Principal,
Government Girls High School,
Lahore.
Madam,
Respectfully, it is submitted that my father is working as a Restorer in the Municipal Committee library. Ile draws a meager salary of Rs. 15000 – per month. Naturally he has to borrow money every month to make both ends meet, He supports a large family consisting of five daughters and three sons. In fact, the household worries have caused a breakdown in his health, and has been on medical leave for over two months.
In the light or the facts stated above, it is requested that I may kindly be granted full tee concession and a stipend Rs. 1500/- per month. I am badly in need of' this financial relief, otherwise I will have to discontinue my studies. My lather's income certificate is attached for your kind perusal. How to write an application
Thanking you,
Yours obediently,
Haseena Moeen
Roll No. 112
Class – X
September 7, 2017
How to write an Application for a character certificate?
Sample of application for a character certificate
The Headmaster,
Garrison High School,
Rawalpindi.
Respectfully. It is submitted that I have been a bona fide student of the Sui School during the session 2016-17. I secured second position in the school in the examination conducted by the Lahore Board of Secondary Education.
I am at Salah (OMAN) these days and plan to study further at the Intermediate College being run by our embassy here.
I am enclosing a reply-paid envelope and it is requested that a character certificate may kindly be issued to enable me to seek admission for further studies. How to write an application
Thanking you.
Yours obediently, Ammar Aslam Moghul
P.O. Box No. 18026 SALALA H (Sultanate)
December9, 2017