A to Z Female Dog Names, Creative Female Dog Names list
Dogs have been known to be man's best friend for centuries. Though they were bred for different reasons, these furry friends make great pets for people of all ages. One important consideration when choosing a dog is the dog's sex. Female dogs often make better pets than male dogs because they are typically more submissive and easier to train. Some popular female dog names include Bella, Daisy, and Lulu.
Naming your pet dog is a fun process that can be enjoyed by the whole family.
There are many different ways to name your dog, but one of the most popular methods is to choose a name based on the dog's gender.
If you have a female dog, there are many great names to choose from.
Some of the most popular names for female dogs include Lola, Bella, Molly, and Daisy.
A to Z Female Dogs Name List
Female Dog Names With A
Ava
Autumn
Athena
Atari
Aspen
Ariel
Annie
Annabelle
Anna
Angel
Amber
Allie
Alice
Alexis
Aida
Adele
Addison
Addie
Abigail
Abby
Abbie
Abbey
Female Dog Names With B
Buffy
Brooklyn
Brandy
Brandi
Boo
Bonnie
Blossom
Blair
Biscuit
Birdie
Billie
Betty
Betsy
Bertha
Belle
Bella
Becca
Bebe
Beauty
Bambi
Bailey
Baby
Babe
Female Dog Names With C
Cricket
Cora
Cookie
Cocoa
Coco
Clover
Cleo
Cinnamon
Chloe
Chica
Cheyenne
Cherry
Chelsea
Charlotte
Charlie
Chanel
Cece
Cassie
Casey
Carolyn
Carmella
Carly
Canyon
Candy
Callie
Cali
Female Dog Names With D
Dutchess
Duchess
Dottie
Dora
Dolly
Dolce
Dixie
Diva
Diva
Diamond
Demi
Delilah
Darla
Daphne
Dani
Dakota
Daisy
Daiquiri
Female Dog Names With E
Eva
Estelle
Esmerelda
Emmy
Emma
Emily
Emiko
Ember
Elsie
Elsa
Ellie Rose
Ellie
Ella
Eliza
Eleven
Electra
Elana
Egypt
Edie
Eden
Ebony
Female Dog Names With F
Frida
Freckles
Frankie
Foxy
Flora
Flo
Fiona
Fifi
Felicity
Faye
Fantasia
Fannie
Faith
Female Dog Names With G
Gypsy
Gretel
Greta
Gracie
Grace
Goldie
Ginger
Gigi
Gidget
Gia
Geraldine
Georgia
Georgia
Geneva
Genesis
Gemma
Gabby
Female Dog Names With H
Hope
Honey
Holly
Holiday
Hillary
Hershey
Henley
Heidi
Heaven
Hazel
Haven
Harrietta
Harper
Harley
Happy
Hannah
Haley
Haley
Hailey
Female Dog Names With I
Izzy
Ivy
Ivory
Isla
Isabelle
Isabella
Iris
Ireland
Ink
Indigo
Indie
India
Inari
Imani
Iggy
Female Dog Names With J
Ibeza
Juno
Josie
Jolene
Jewel
Jessie
Jersey
Jenny
Jennifer
Jazzy
Jasmine
Janelle
Jane
Jamie
Jade
Jada
Jackie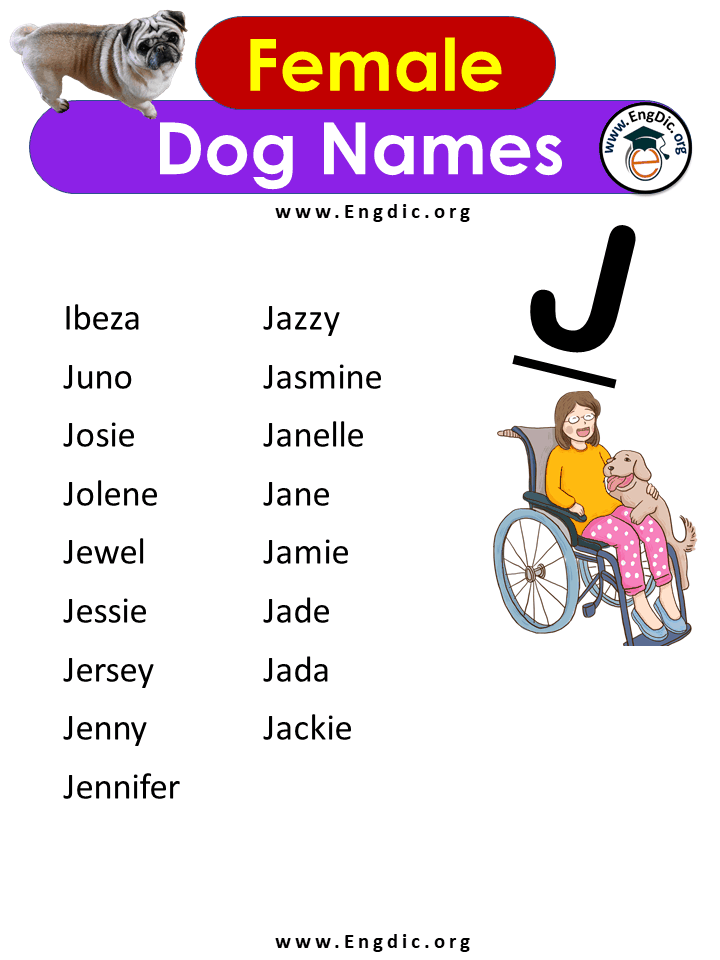 Female Dog Names With K
Kona
Koko
Kiwi
Kisses
Kira
Kinley
Kimono
Kimmie
Kiki
Khloe
Kewpie
Kenya
Kennedy
Kendall
Kelsey
Kelly
Kayla
Kayla
Kaya
Katie
Kate
Karma
Karma
Kamila
Kallie
Kali
Kahlua
Female Dog Names With L
Luna
Lulu
Lucy
Lucky
London
Lola
Lola
Lizzy
Lizzie
Lily
Lilly
Liberty
Libby
Lexie
Leila
Leia
Layla
Lana
Laila
Laika
Lady
Lacy
Lacey
Female Dog Names With M
Murphy
Muppet
Muffin
Moxie
Morgan
Molly
Mollie
Moki
Mocha
Mitzi
Misty
Missy
Minnie
Mimi
Millie
Miley
Mila
Mika
Mia
Mckenna
Maya
Mattie
Matilda
Marley
Mandy
Maisy
Maggie Mae
Maggie
Madison
Maddy
Maddie
Macy
Mackenzie
Mabel
Mya
Female Dog Names With N
Nova
Nori
Nola
Nina
Nikki
Nikita
Nellie
Navi
Natoya
Natasha
Nala
Female Dog Names With O
Oxana
Oreo
Oprah
Opal
Onyx
Olivia
Olive
Oki
Ocean
Female Dog Names With P
Pumpkin
Princess
Precious
Poppy
Polly
Pixie
Pippa
Piper
Phoebe
Pepper
Penny
Penny
Penelope
Pebbles
Pearl
Peanut
Peaches
Payton
Parsley
Paris
Paisley
Paige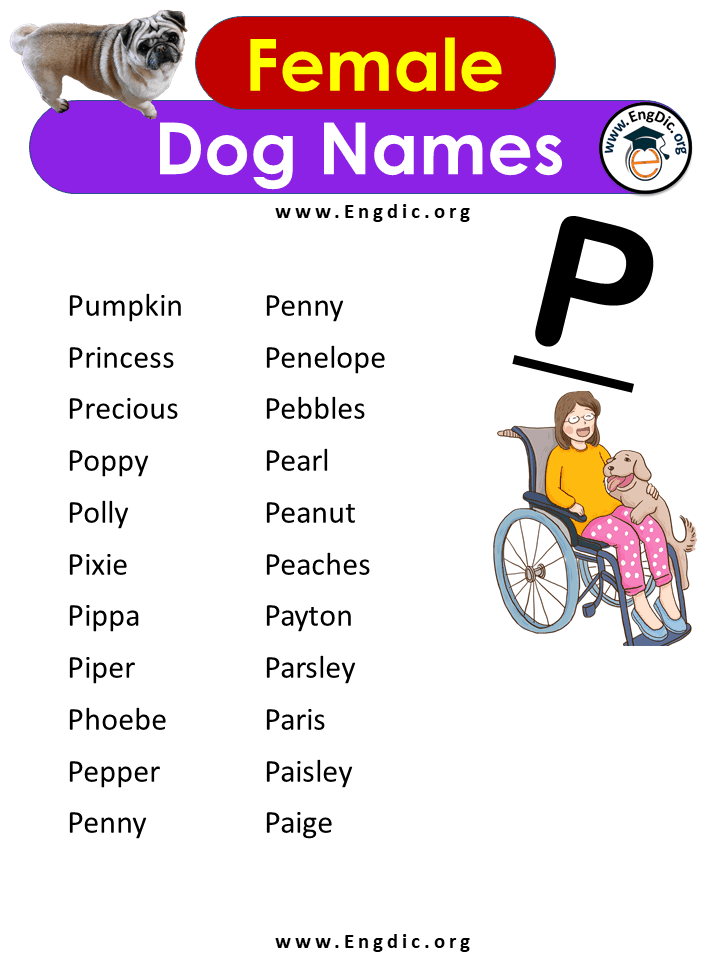 Female Dog Names With Q
Queenie
Quigley
Quinn
Quitara
Quizzie
Qunita
Female Dog Names With R
Rylie
Ruby
Roxy
Roxie
Rosie
Rosemary
Rose
Rivka
River
Ritzy
Rita
Riley
Reese
Raven
Raisin
Raina
Female Dog Names With S
Sydney
Sweetie
Sunshine
Sunny
Summer
Suki
Sugar
Stella
Star
Stanley
Spike
Spencer
Sparky
Sophie
Sophia
Sonny
Sofie
Snoopy
Snickers
Smokey
Skye
Skye
Sky
Sissy
Simon
Simba
Sierra
Shiloh
Shelby
Sheba
Shadow
Seven
Scout
Scarlett
Scarlet
Savannah
Sassy
Sasha
Sarah
Sara
Sandy
Sammy
Sammie
Samantha
Sally
Sage
Saffron
Sadie
Female Dog Names With T
Twinkie
Trudy
Trixie
Tori
Tootsie
Tinkerbell
Tina
Tilly
Tessa
Tess
Tenley
Tatum
Tasha
Tamara
Tabitha
Female Dog Names With U
Utopia
Utah
Ursula
Unity
Una
Uinta
Female Dog Names With V
Vixen
Viper
Violet
Vicky
Vespa
Vera
Venus
Valor
Female Dog Names With W
Winter
Winona
Winnie
Willow
Willa
Whisper
Westlyn
Waynoka
Wanda
Female Dog Names With X
Xiadani
Xena
Xella
Xanti
Xandra
Female Dog Names With Y
Yumi
Yuba
Yosemite
Yola
Yoko
Yeska
Yellow
Yeardley
Yasmin
Yara
Female Dog Names With Z
Zuri
Zola
Zoey
Zoe
Ziva
Zipper
Zena
Zelda
Zara
Zadie