50 Examples of Indefinite Pronouns in Sentences! Welcome to this article on indefinite pronouns- words that can refer to non-specific people, places, and things. Indefinite pronouns are used in many types of writing and are essential for effective communication. This article will provide you with 100 examples of indefinite pronouns in sentences so you can understand the usage of these pronouns in different contexts. We will cover examples from both spoken and written English, as well as a variety of language levels.
Related: 100 Examples of Indefinite Pronouns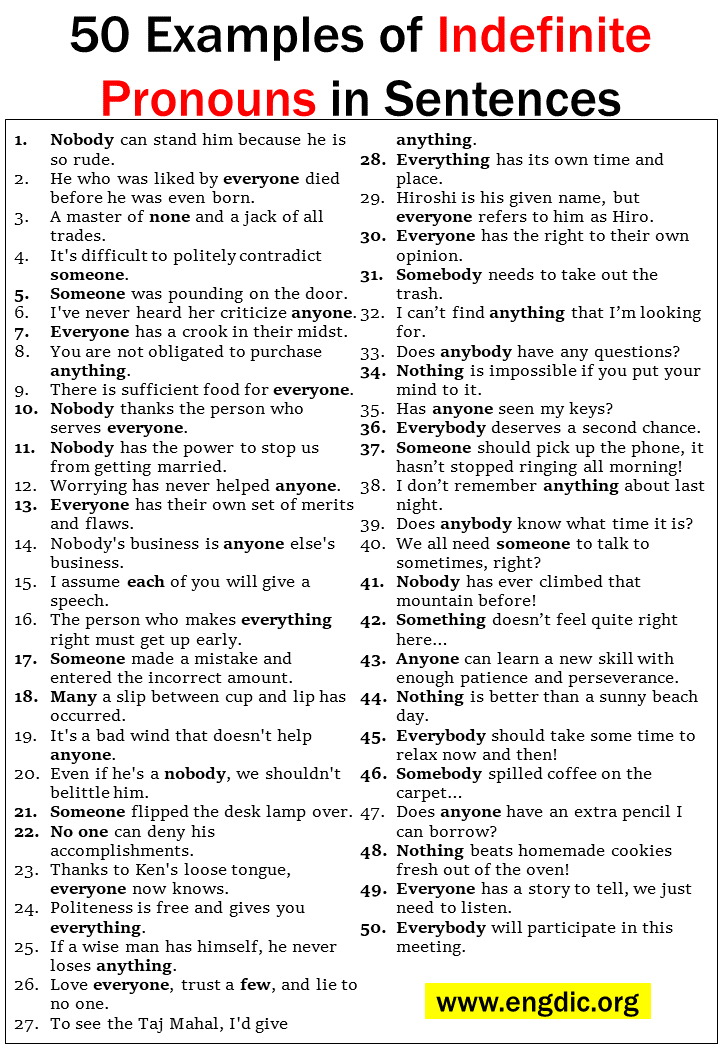 50 Examples of Indefinite Pronouns in Sentences
Nobody

can stand him because he is so rude.

He who was liked by

everyone

died before he was even born.

A master of

none

and a jack of all trades.

It's difficult to politely contradict

someone

.

Someone

was pounding on the door.

I've never heard her criticize

anyone

.

Everyone

has a crook in their midst.

You are not obligated to purchase

anything

.

There is sufficient food for

everyone

.

Nobody

thanks the person who serves

everyone

.

Nobody

has the power to stop us from getting married.

Worrying has never helped

anyone

.

Everyone

has their own set of merits and flaws.

Nobody's business is

anyone

else's business.

I assume

each

of you will give a speech.

The person who makes

everything

right must get up early.

Someone

made a mistake and entered the incorrect amount.

Many

a slip between cup and lip has occurred.

It's a bad wind that doesn't help

anyone

.

Even if he's a

nobody

, we shouldn't belittle him.

Someone

flipped the desk lamp over.

No one

can deny his accomplishments.

Thanks to Ken's loose tongue,

everyone

now knows.

Politeness is free and gives you

everything

.

If a wise man has himself, he never loses

anything

.

Love

everyone

, trust a

few

, and lie to no one.

To see the Taj Mahal, I'd give

anything

.

Everything

has its own time and place.

Hiroshi is his given name, but

everyone

refers to him as Hiro.

Everyone has the right to their own opinion.
Somebody needs to take out the trash.
I can't find anything that I'm looking for.
Does anybody have any questions?
Nothing is impossible if you put your mind to it.
Has anyone seen my keys?
Everybody deserves a second chance.
Someone should pick up the phone, it hasn't stopped ringing all morning!
I don't remember anything about last night.
Does anybody know what time it is?
We all need someone to talk to sometimes, right?
Nobody has ever climbed that mountain before!
Something doesn't feel quite right here…
Anyone can learn a new skill with enough patience and perseverance.
Nothing is better than a sunny beach day.
Everybody should take some time to relax now and then!
Somebody spilled coffee on the carpet…
Does anyone have an extra pencil I can borrow?
Nothing beats homemade cookies fresh out of the oven!
Everyone has a story to tell, we just need to listen.
Everybody will participate in this meeting.
Last updated on April 4th, 2023 at 04:59 pm