Have you ever wanted to have a garden that blooms year-round? Lucky for you, there are many types of flowers that bloom all year long! Whether you want to brighten your backyard with vibrant colors or create the perfect unique gift for someone special, these top 10 flowers are sure to offer something beautiful in any season. From roses and Jasmine to snapdragons and lantana, this list will give you plenty of options so that your landscape is continuously filled with gorgeous Ixora. Keep reading as we explore each flower's description and discuss why they can thrive successfully all 12 months!
Related: 300 Flowers Name (Complete Lesson)
List of 10 Flowers That Bloom All Year
Aparajita
Bougainvillea
Golden Trumpet
Ixora
Jasmine
Kalanchoe
Lantana
Milii
Rose
Snapdragons
Flowers That Bloom All the Year and Properties
1. Aparajita
Scientific Name: Clitoria ternatea
The Aparajita Flower is a unique flower that blooms all year and is a popular choice in home gardens. Native to tropical Asian countries, the aparajita flower grows in sprawling, vine-like clusters and is beloved for its vibrant blue color.
The flowers develop in shades of lavender and blue with dark veins on the petals, giving them an interesting marbled effect. Though it requires a small amount of care and regular watering, the aparajita flower can be an attractive addition to any garden or balcony. It also serves as an important pollinator plant for local insect life.
2. Bougainvillea
Scientific Name: Bougainvillea glabra
The Bougainvillea flower is a gorgeous vibrant flower native to the tropics and subtropics of South America but now grown in many parts of the world.
With its splashes of hot pink, magenta, and purple leaves this flower is sure to liven up any garden! It not only offers a pleasant sight of color but also will flower multiple times throughout the year as it is a non-seasonal bloomer. This characteristic makes it perfect for those looking to enjoy continuous blooms from their gardens regardless of the time of year. Not only can they be found in gardens, but the buds are often part of festive decorations or ceremonies around the globe due to their long-lasting vibrant colors.
To get these beautiful flowers thriving all year round you must ensure that their soil has adequate drainage and give it plenty of full sunlight.
3. Golden Trumpet
Scientific Name: Allamanda cathartica
The Golden Trumpet Flower is a beautiful addition to any yard or garden. This flower is unique in that it has the ability to bloom all year round. With its attractive cream, yellow, and pale brown coloring, the Golden Trumpet Flower can liven up any space. While the flower is resilient to the elements, it does require sun and water in order for it to thrive.
The bright hues of this flower symbolize optimism and resiliency. The beauty of this flower makes it an excellent housewarming gift to bring a bit of cheer and welcome into your home or someone else's!
4. Ixora
Scientific Name: Ixora coccinea
The Ixora is an enchanting flower that blooms throughout the year. It is found mostly in tropical countries, and its waxy, amber-colored petals come in a wide range of vibrant hues. Its heady aroma and plentiful blooms have made it a favorite among gardeners, landscapers, and floral designers alike.
Whether planted in container gardens or landscapes, the Ixora remains evergreen and offers brilliant touches of color from season to season.
5. Jasmine
Scientific Name: Jasminum
The Jasmine is an all-year bloomer, prized for its elegant flowers and fragrant scent. This species of flower is a tropical favorite, often used in gardens to become a centerpiece and add depth to any landscape.
Jasmine is a unique flower often found in warm areas and tropical areas such as Eurasia, Asia, Africa, and Oceania.
Unlike traditional flowers, the Jasmine is able to bloom all year round, making it an ideal choice for gardeners who want a glimpse of beauty even on the dreariest of winter days.
Since this type of flower can survive with low levels of water and soil fertility, it makes a robust choice for those looking to spruce up their garden without great effort.
As a low-maintenance addition to your garden or yard, the Jasmine adds beauty wherever it's planted!
6. Kalanchoe
Scientific Name: Kalanchoe
Kalanchoe is a vibrant and eye-catching flower that blooms all year long. It is native to Madagascar and tropical Africa and grows from seed V-shaped leaflets that produce beautiful flowers up to 3 inches long.
This flower is perfect for gardeners looking to fill shady parts of their garden with color, as it will happily grow in light levels indoors or outdoors as low as one-fifteenth natural sunlight.
The flowers come in a variety of colors like red, yellow, pink, salmon, and white and can be grown in containers altogether for a stunning display. A mulch layer around the plants is recommended to keep the soil moist during dry periods. Add this colorful flower to your garden for some lasting enjoyment!
7. Snapdragons
Scientific Name: Antirrhinum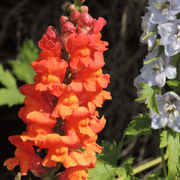 Snapdragons are an eye-catching and alluring flower that brings vibrancy to any garden and is a great choice for those looking to add some cheerful, vibrant color.
This flower will give your outdoor space a stunning, summery feel year-round with its bright red hue. Snapdragons are also incredibly low maintenance; it blooms almost continuously from late spring until the fall, making it a great "fool-proof" plant for any gardening enthusiast!
Not only that, but Snapdragons has the unique ability to survive in both sun and shade—which makes it ideal for a variety of garden spaces. So why not bring a bit of vibrance and beauty into your garden with this Flower That Blooms All Year?
8. Lantana
Scientific Name: Lantana camara
The Lantana is an ever-blooming flower native to Central and South America. It is known for its bright red and yellow bicolor flowers which bloom profusely all year round, making it a popular choice for gardeners seeking vibrant color in their gardens.
The Leaves of the Lantana are dark green and shaped like heart-shaped lobes. Not only does this flower act as a beautiful ornamental addition to any landscape, but studies have also shown that planting these flowers can help ward off pest infestations!
9. Milii
Scientific Name: Madagascar
The Milii Flower, otherwise known as the christ thorn or crown of thorns, is a remarkable variety of hibiscus found all across Madagascar. Growing easily in tropical and subtropical climates, one of the main signatures of the Milii flower is its capacity to bloom throughout all seasons – an incredibly rare quality for such a flower, particularly during wintertime when many other varieties struggle to survive.
The vibrant colors these blooms possess, ranging from deep red to soft cream tones, make it an ideal display for gardens looking for some lasting beauty all year round.
10. Rose
Scientific Name: Rosa
A rose blooms all year long, making it a beloved favorite among gardeners. Its colors come in a variety of pastels, ranging from blush pink to deep crimson.
Roses are available with petals in the shape of hearts which makes them ideal for cutting bouquets. The bloom is delicate but long-lasting – they last longer when they are kept out of direct sunlight and away from drafts.
The fragrant aroma also makes roses popular in colognes and potpourri as well as wedding displays and boutonnieres. With its array of stunning colors, fragrances, durability, and heart-shaped petals, the rose remains an ever-enduring symbol of beauty around the world.
What Flower Blooms the Longest?
Answer: Anthurium
Anthurium is a tropical perennial flower that blooms continuously throughout the year in warm climates. This beautiful flower produces bright, heart-shaped flowers up to 4 inches long and 2 inches wide with distinctive red veins.
Related: Summer Flower Names
Related: Winter Flower Names