List of strong Verbs in English Pdf!
Strong verbs are power verbs that will enlighten your writing, either you are writing or making a resume, curriculum vitiates, or an email, after using these power verbs in your writing your text will get wings of energy and power and will impress and admire by everyone.
No doubt good writing depends on the selection of words, selection of good adjectives, verbs, and adverbs. Adjectives, Verbs, and Adverbs that can spice your writing.
And the easiest way to win this out and create a masterpiece is to replace flabby verbs with these strong verbs in your writing.
List of Strong Verbs in English
Here is a strong verbs list in English: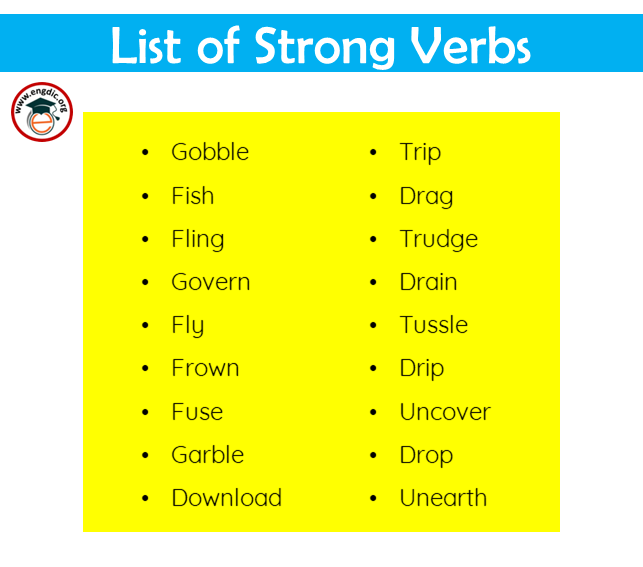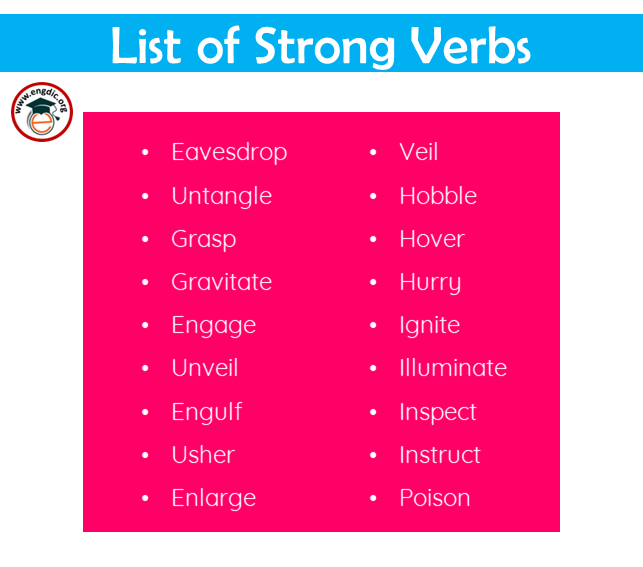 Depart
Swoon
Deposit
Tail
Detect
Tattle
Deviate
Toddle
Devour
Direct
Transfigure
Transform
Discern
Travel
Discover
Treat
Dismantle
Trim
Ensnare
Wail
Envelop
Weave
Pluck
Erase
Wind
Expand
Wreck
Escort
Withdraw
Explode
Wrench
Explore
Wrest
Plunge
Prune
Expose
Wrestle
Extend
Wring
Gaze
Glare
Bash
Slide
Batter
Slink
Beam
Slip
Beef
Slump
Blab
Slurp
Blast
Smash
Bolt
Smite
Gleam
Boost
Snag
Brief
Snarl
Extract
Yank
Eyeball
Zing
Glisten
Fight
Zap
Glitter
Gobble
Fish
Fling
Govern
Fly
Frown
Fuse
Garble
Download
Trip
Drag
Trudge
Related: Strong Adverbs List
Drain
Tussle
Drip
Uncover
Drop
Unearth
Eavesdrop
Untangle
Grasp
Gravitate
Engage
Unveil
Engulf
Usher
Enlarge
Veil
Hobble
Hover
Hurry
Ignite
Illuminate
Inspect
Poison
Pop
Intensify
Intertwine
Lurk
Magnify
Mimic
Mint
Demolish
Swipe
Moan
Position
Modify
Absorb
Shimmer
Advance
Shine
Advise
Shock
Alter
Shrivel
Amend
Sizzle
Amplify
Skip
Attack
Skulk
Balloon
Slash
Broadcast
Sneak
Brood
Snowball
Burst
Soar
Bus
Spam
Bust
Sparkle
Capture
Sport
Catch
Sprinkle
Charge
Stare
Chap
Starve
Shatter
Shepherd
Power
Grip
Groan
Muse
Mushroom
Multiply
Grope
Growl
Peek
Guide
Gush
Peer
Probe
Perceive
Reverberate
Pilot
Revitalize
Hack
Revolve
Heighten
Rip
Picture
Pinpoint
Rise
Place
Plant
Revolutionize
Ruin
Plop
Realize
Recite
Refashion
Rush
Prickle
Recoil
Refine
Rust
Chip
Remove
Steal
Clasp
Steer
Report
Retreat
Reveal
Hail
Climb
Storm
Saunter
Scamper
Scan
Scorch
Scrape
Clutch
Scratch
Strain
Collide
Scrawl
Stretch
Command
Impart
Strip
Commune
Stroll
Cower
Struggle
Seize
Crackle
Stumble
Jostle
Crash
Supercharge
Crave
Serve
Supersize
Crush
Surge
Launch
Dangle
Survey
Journey
Lash
Lead
Leap
Locate
Lurch
Mystify
Notice
Notify
Obtain
Oppress
Order
Dash
Paint
Swell
Park
Peck
Download this List of Strong Verbs in English in PDF
Must Learn: List of Irregular adverbs