What does a Cute Outfit Mean?
A "cute outfit" refers to a set of clothing and accessories that are visually pleasing and stylish. The outfit typically draws positive attention and compliments for its coordinated and fashionable appearance.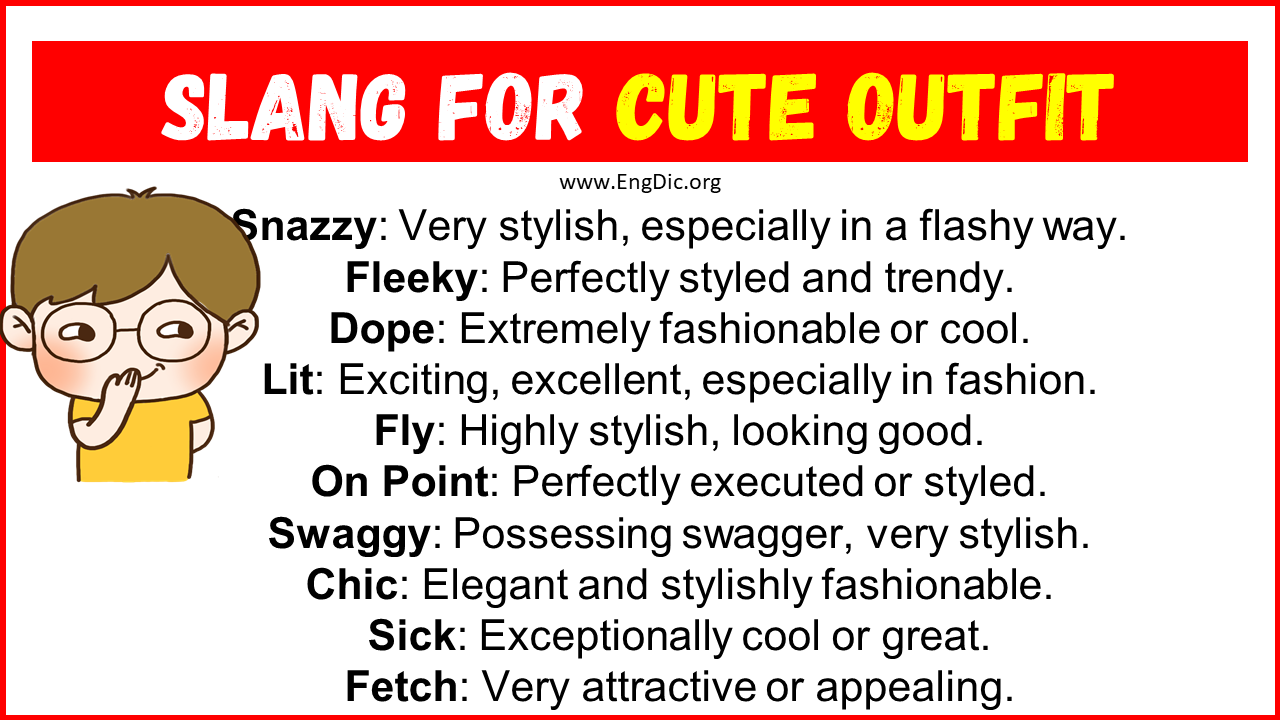 Slang Words for Cute Outfit
Snazzy: Very stylish, especially in a flashy way.
Fleeky: Perfectly styled and trendy.
Dope: Extremely fashionable or cool.
Lit: Exciting, excellent, especially in fashion.
Fly: Highly stylish, looking good.
On Point: Perfectly executed or styled.
Swaggy: Possessing swagger, very stylish.
Chic: Elegant and stylishly fashionable.
Sick: Exceptionally cool or great.
Fetch: Very attractive or appealing.
Steezy: A blend of stylish and easy.
Killer: Outstandingly stylish or impressive.
Glam: Glamorous, often in a sophisticated way.
Rad: Really cool, but in a retro way.
Lush: Rich in detail, often luxurious.
Crisp: Neat, clean, and stylish.
Sleek: Smooth and elegant, minimalistic.
Poppin': Stands out, visually impressive.
Fire: Hot, cool, very good.
Banging: Extremely attractive or stylish.
Use of Cute Outfit Slang in Example Sentences
That is a snazzy jacket you're wearing.
Your shoes are absolutely fleeky today.
Wow, that's a dope ensemble you've got.
Your outfit is totally lit!
The skirt you have on is really fly.
The way you accessorized is on point.
That hat makes the look really swaggy.
Those heels are incredibly chic.
Your whole vibe is just sick today.
That dress is totally fetch!
The casual and comfortable vibe is steezy.
You have a killer outfit today.
Her bag is so glam, it elevates the whole outfit.
Those vintage shades are rad.
Your scarf is so lush, I love it.
The shirt is so crisp, it's perfect.
You look sleek in that tailored suit.
Your makeup is absolutely poppin'.
The whole look is just fire.
Your boots are banging, where did you get them?
Explore More Slang Words: