Opposite of Passive, Antonyms of passive with meaning and Example Sentences in English PDF
What are opposite words or antonyms?
Opposite words or Antonyms means those words that oppose the meaning of each other completely. For example Dark/Light, White/Black etc.
Normally the question that comes to mind when we are trying to learn these vocabulary words is that "Why should I memorize these Opposites when I know the basic words?"
These words are very useful in our daily routine vocabulary. Here I will tell you what are the benefits of using antonym and opposites? If you know the opposites of all the vocabulary words in your collection then your collection can be increased and you have a variety of words to use in your conversation. In your writing and speaking if you use the variety of words instead using repeating the same words it will cast a good impression. And your writing and speaking will become professional.
Note: You must know that antonyms and synonyms are two different terms. Synonyms means the words that have same meanings but in case of antonym it is completely different as I discussed above.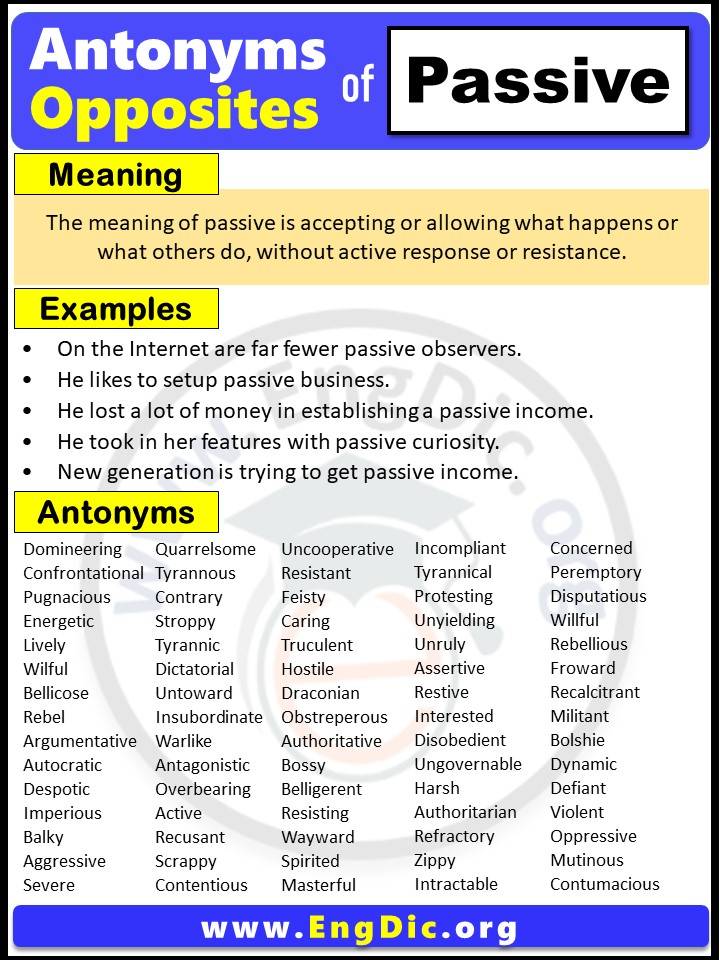 What is the meaning of passive?
The meaning of passive is accepting or allowing what happens or what others do, without active response or resistance.
Opposite of Passive (Antonyms of Passive)
Domineering
Confrontational
Pugnacious
Energetic
Lively
Wilful
Bellicose
Rebel
Argumentative
Autocratic
Despotic
Imperious
Balky
Aggressive
Severe
Quarrelsome
Tyrannous
Contrary
Stroppy
Tyrannic
Dictatorial
Untoward
Insubordinate
Warlike
Antagonistic
Overbearing
Active
Recusant
Scrappy
Contentious
Uncooperative
Resistant
Feisty
Caring
Truculent
Hostile
Draconian
Obstreperous
Authoritative
Bossy
Belligerent
Resisting
Wayward
Spirited
Masterful
Incompliant
Tyrannical
Protesting
Unyielding
Unruly
Assertive
Restive
Interested
Disobedient
Ungovernable
Harsh
Authoritarian
Refractory
Zippy
Intractable
Concerned
Peremptory
Disputatious
Willful
Rebellious
Froward
Recalcitrant
Militant
Bolshie
Dynamic
Defiant
Violent
Oppressive
Mutinous
Contumacious
Autocratical
Impatient
Obstinate
Agitated
Combative
Examples of Passive in Sentences
On the Internet are far fewer passive observers.
He likes to setup passive business.
He lost a lot of money in establishing a passive income.
He took in her features with passive curiosity.
New generation is trying to get passive income.
More Common Opposite Words
Free – Arrest
Emigration – Immigration
East – West
Difficult – Easy
Descendant – Ancestor
Clear – Cloudy
Black – White
Backward – Forward
Attic – Cellar
Approximately – Exactly
Valley – Mountain
Thirsty – Hungry
Rear – Front
Raise – Lower
Permit – Forbid
Often – Seldom
Moderate – Extreme
Many – Few
Light – Dark
Large – Small
Humid – Dry
Down – Up
Divide – Unite
Clean – Dirty
Borrow – Lend
Arrival – Departure
Work – Rest
Wealthy – Poor
Sour – Sweet
Solid – Liquid
Satisfaction – Regret
Safety – Danger
Open – Closed
Open – Closed
Light – Heavy
Horizontal – Vertical
Go – Come
Downstairs – Upstairs
Dictatorship – Republic
Deny – Admit
Dangerous – Safe
Asleep – Awake
Amateur – Professional
Visitor – Host
Succeed – Fail
Save – Spend
Sadness – Happiness
Nothing – Everything
Narrow – Broad
Minor – Major
Live – Die
Land – Take Off
Good Luck – Bad Luck
Foreground – Background
Extreme – Moderate
Ending – Beginning
Emigration – Immigration
Borrow – Lend
Amateur – Professional
Admit – Deny
Stranger – Native
Spring – Autumn
Particular – General
Notice – Ignore
Lady – Gentleman
Lack – Abundance
Fresh – Old
Failure – Success
Exit – Entrance
Devil – Angel
Destruction – Construction
Descendant – Ancestor
Ceiling – Floor
Break – Fix
Awake – Asleep
Asleep – Awake
Already – Not Yet
Alive – Dead
Vertical – Horizontal
Some – Many
Sad – Happy
Quiet – Loud
Probably – Certainly
Nice – Awful
Men – Women
Men – Women
Master – Servant
Innocent – Guilty
Heaven – Hell
Foreground – Background
Even – Odd
Continue – Interrupt
Cellar – Attic
Blunt – Sharp
Arrive – Depart
All – None
Useful – Useless
Ugly – Beautiful
Strict – Gentle
Satisfy – Annoy
Occupied – Vacant
Inside – Outside
Host – Guest
Hate – Enjoy
Fail – Succeed
Down – Up
Destruction – Construction
Cold – Heat
Bottom – Top
Beautiful – Ugly
Background – Foreground
Affirmative – Negative
Abundance – Lack
Weak – Powerful
Sour – Sweet
Shallow – Deep
Rich – Poor
Repair – Damage
Regret – Satisfaction
Presence – Absence
Laugh – Cry
Ignore – Notice
High – Low
Free – Arrest
Foreign – Domestic
Ending – Beginning
Drama – Comedy
Down – Up
Defense – Attack
Active – Lazy
Strong – Weak
Soul – Body
Slim – Fat
Safety – Danger
Other – Same
Other – Same
Narrow – Broad
Light – Dark
Lack – Abundance
Forbid – Allow
Failure – Success
Exclude – Include
Ending – Beginning
Downstairs – Upstairs
Domestic – Foreign
Best – Worst
Back – In Front Of
Under – Over
Silent – Noisy
Republic – Dictatorship
Open – Closed
Notice – Ignore
In – Out
Host – Guest
Generous – Mean
Extreme – Moderate
Ending – Beginning
Defeat – Victory
Death – Birth
Complicated – Simple
Cheap – Expensive
Brother – Sister
Brave – Cowardly
Alike – Different
After – Before
Throw – Catch
Stranger – Native
Small – Big
Right – Left
No – Yes
Mountain – Valley
Marriage – Divorce
In – Out
Host – Guest
Fast – Slow
Exit – Entrance
Downstairs – Upstairs
Departure – Arrival
Delicious – Awful
Consonant – Vowel
Bad – Good
All – None
War – Peace
Success – Failure
Sad – Happy
Rude – Polite
Reduce – Increase
Pretty – Ugly
Normal – Strange
Mess – Order
Major – Minor
Light – Dark
Hell – Heaven
Frequently – Occasionally
Everybody – Nobody
Evening – Morning
Empty – Full
Courageous – Cowardly
Bottom – Top
Artificial – Natural
Whisper – Scream
Sugar – Salt
Smooth – Rough
Shelter – Exposure
Rest – Work
None Of – Al Lot Of
Moderate – Extreme
Master – Servant
Inside – Outside
Include – Exclude
Immigrate – Emigrate
Form – Destroy
Extreme – Moderate
Borrow – Lend
Attack – Defense
Annoy – Satisfy
Ancestor – Descendant
Active – Lazy
Wedding – Divorce
Wealth – Poverty
Summer – Winter
Silent – Noisy
Shout – Whisper
Over – Under
Master – Servant
Man – Woman
Interrupt – Continue
Gentleman – Lady
Form – Destroy
Fat – Slim
Defense – Attack
Dangerous – Safe
Build – Destroy
Attack – Defend
Ancestor – Descendant
Woman – Man
Unite – Divide
True – False
Reply – Ask
Nothing – Everything
Live – Die
Last – First
Foreigner – Native
Find – Lose
Fast – Slow
Far – Near
Excited – Calm
Dull – Interesting
Dangerous – Safe
Busy – Lazy
Awful – Nice
Awful – Nice
Antonym – Synonym
Ugliness – Beauty
Take Off – Land
Start – Finish