Opposite of Loud, Antonyms of loud with meaning and Example Sentences in English PDF
What are opposite words or antonyms?
Opposite words or Antonyms means those words that oppose the meaning of each other completely. For example Dark/Light, White/Black etc.
Normally the question that comes to mind when we are trying to learn these vocabulary words is that "Why should I memorize these Opposites when I know the basic words?"
These words are very useful in our daily routine vocabulary. Here I will tell you what are the benefits of using antonym and opposites? If you know the opposites of all the vocabulary words in your collection then your collection can be increased and you have a variety of words to use in your conversation. In your writing and speaking if you use the variety of words instead using repeating the same words it will cast a good impression. And your writing and speaking will become professional.
Note: You must know that antonyms and synonyms are two different terms. Synonyms means the words that have same meanings but in case of antonym it is completely different as I discussed above.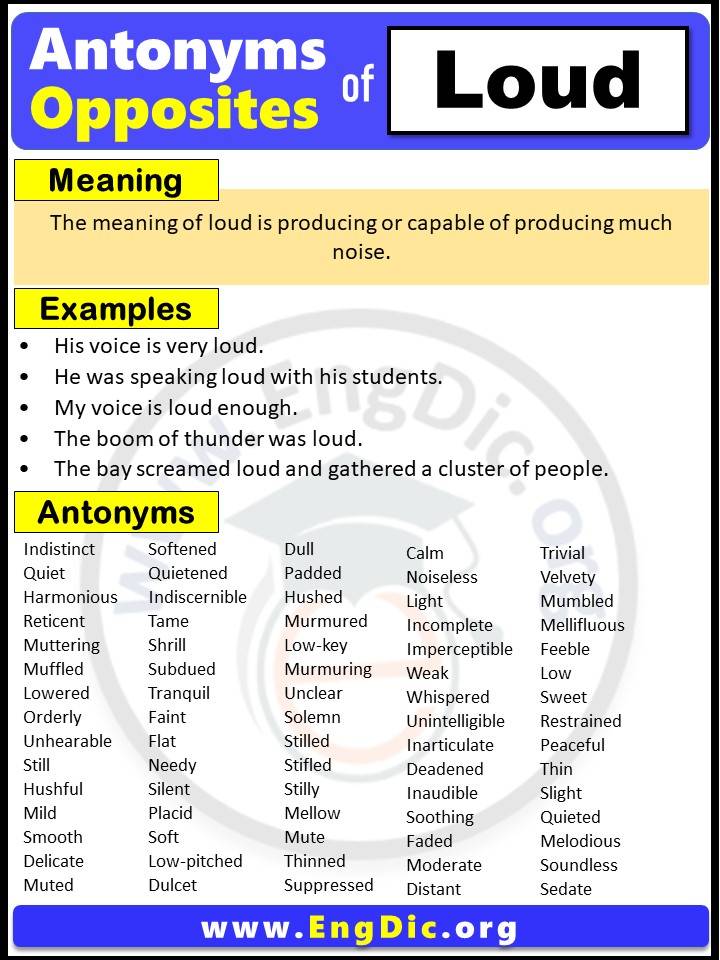 What is the meaning of loud?
The meaning of loud is producing or capable of producing much noise.
Opposite of Loud (Antonyms of Loud)
Indistinct
Quiet
Harmonious
Reticent
Muttering
Muffled
Lowered
Orderly
Unhearable
Still
Hushful
Mild
Smooth
Delicate
Muted
Softened
Quietened
Indiscernible
Tame
Shrill
Subdued
Tranquil
Faint
Flat
Needy
Silent
Placid
Soft
Low-pitched
Dulcet
Dull
Padded
Hushed
Murmured
Low-key
Murmuring
Unclear
Solemn
Stilled
Stifled
Stilly
Mellow
Mute
Thinned
Suppressed
Calm
Noiseless
Light
Incomplete
Imperceptible
Weak
Whispered
Unintelligible
Inarticulate
Deadened
Inaudible
Soothing
Faded
Moderate
Distant
Trivial
Velvety
Mumbled
Mellifluous
Feeble
Low
Sweet
Restrained
Peaceful
Thin
Slight
Quieted
Melodious
Soundless
Sedate
Gentle
Toned down
Subtle
Vague
Weakened
Examples of Loud in Sentences
His voice is very loud.
He was speaking loud with his students.
My voice is loud enough.
The boom of thunder was loud.
The bay screamed loud and gathered a cluster of people.
More Opposite Words List
Clever – Stupid
Children – Parents
Cellar – Attic
Careless – Careful
Bitter – Sweet
Attack – Defend
Angel – Devil
Advanced – Elementary
Add – Subtract
Slow – Fast
Peace – War
Occupied – Vacant
Mend – Break
Master – Servant
Live – Die
Lie – Stand
Lead – Follow
Lead – Follow
Large – Small
Husband – Wife
Happy – Sad
Happiness – Sadness
Freeze – Melt
Find – Lose
Equal – Different
Desperate – Hopeful
Raise – Lower
Presence – Absence
Mountain – Valley
Modern – Ancient
Mess – Order
Major – Minor
Liquid – Solid
Less – More
Lazy – Active
In Front Of – Back
Import – Export
Hopeless – Hopeful
Handsome – Ugly
Go – Come
Full – Empty
Empty – Full
Absence – Presence
Pass – Fail
Life – Death
Free – Arrest
Excited – Calm
Dictatorship – Republic
Daughter – Son
Cry – Whisper
Courage – Fear
Cool – Warm
Constant – Changeable
Constant – Changeable
Brave – Coward
Below – Above
Before – After
Attic – Cellar
Ancient – Modern
Accidental – Intentional
Woman – Man
Stand – Lie
Special – General
Poor – Rich
Nephew – Niece
Miss – Hit
Live – Die
Late – Early
Last – First
Land – Water
Kind – Cruel
Kind – Cruel
Here – There
Happiness – Sadness
Grown-Up – Child
Giant – Tiny
General – Particular
Front – Rear
Ending – Beginning
Divorced – Married
Dictatorship – Republic
Day – Night
Child – Adult
Centre – Outskirts
Cellar – Attic
Beginning – End
Beauty – Ugliness
Awful – Nice
Attic – Cellar
Attic – Cellar
Attack – Defend
Argue – Agree
Ancestor – Descendant
Alike – Different
Wrong – Correct
Wealth – Poverty
Useless – Useful
Unite – Divide
Terrible – Lovely
Succeed – Fail
Strange – Normal
Short – Long
Sell – Buy
Seldom – Often
Reduce – Increase
Equal – Different
Cheap – Expensive
Attack – Defend
Argue – Agree
Always – Never
Abundance – Lack
Sharp – Blunt
Partial – Total
Over – Under
Loud – Quiet
Learn – Teach
Intelligent – Silly
Increase – Reduce
Hungry – Thirsty
Human – Animal
Horizontal – Vertical
Good – Bad
Giant – Tiny
Front – Rear
Friend – Enemy
Form – Destroy
Fail – Succeed
Destruction – Construction
Right – Left
Maximum – Minimum
Lady – Gentleman
Humane – Cruel
High – Deep
Handsome – Ugly
Gentle – Violent
General – Particular
Form – Destroy
Enter – Leave
Enter – Leave
End – Beginning
End – Begin
Elementary – Advanced
Destroy – Build
Construction – Destruction
Build – Destroy
Vowel – Consonant
Vertical – Horizontal
Ugly – Beautiful
Tiny – Giant
Soft – Hard
Grown-Up – Child
Difficult – Easy
Defeat – Victory
Changeable – Constant
Cellar – Attic
Cellar – Attic
Buy – Sell
Arrive – Depart
Alive – Dead
After – Before
Adult – Child
Abundance – Lack
Vowel – Consonant
Opponent – Supporter
Old – Modern
Nephew – Niece
Maximum – Minimum
Marry – Divorce
Marry – Divorce
Lead – Follow
Intelligent – Silly
Inside – Outside
Immigrate – Emigrate
Humid – Dry
Good – Bad
Go – Come
Female – Male
Exclude – Include
Enjoy – Hate
Teach – Learn
Slim – Fat
Sick – Healthy
Security – Danger
Satisfy – Annoy
Safe – Dangerous
Sadness – Happiness
Push – Pull
Public – Private
Probably – Certainly
Opponent – Supporter
Noon – Midnight
Near – Distant
Narrow – Broad
Marry – Divorce
Defend – Attack
Attack – Defence
Winter – Summer
Wife – Husband
Wealthy – Poor
Useless – Useful
Supporter – Opponent
Sun – Moon
Success – Failure
Sharp – Blunt
Separate – Connect
Salt – Sugar
Safety – Danger
Professional – Amateur
Foreigner – Native
Centre – Outskirts
Background – Foreground
Arrival – Departure
Angel – Devil
Yes – – No
Woman – Man
Voluntary – Compulsory
Ugly – Beautiful
Sweet – Bitter
Supporter – Opponent
Stop – Start
Special – General
Slow – Fast
Simple – Complicated
Shelter – Exposure
Quiet – Loud
Flat – Hilly
Downstairs – Upstairs
Cellar – Attic
Bad – Good
Ancestor – Descendant
Young – Old
Useless – Useful
Unity – Division
Unite – Divide
Trust – Suspect
Trust – Suspect
There – Here
Strict – Gentle
Right – Wrong
Import – Export
Down – Up
Ceiling – Floor
Ancestor – Descendant
Afraid – Brave
Add – Subtract
Abundance – Lack
Absence – Presence
Weak – Powerful
Soul – Body
Silly – Intelligent
Shut – Open
Shallow – Deep
Security – Danger
Satisfaction – Regret
Reply – Ask
Push – Pull
Protection – Attack