Opposite of Funny, Antonyms of funny with meaning and Example Sentences in English PDF
What are opposite words or antonyms?
Opposite words or Antonyms means those words that oppose the meaning of each other completely. For example Dark/Light, White/Black etc.
Normally the question that comes to mind when we are trying to learn these vocabulary words is that "Why should I memorize these Opposites when I know the basic words?"
These words are very useful in our daily routine vocabulary. Here I will tell you what are the benefits of using antonym and opposites? If you know the opposites of all the vocabulary words in your collection then your collection can be increased and you have a variety of words to use in your conversation. In your writing and speaking if you use the variety of words instead using repeating the same words it will cast a good impression. And your writing and speaking will become professional.
Note: You must know that antonyms and synonyms are two different terms. Synonyms means the words that have same meanings but in case of antonym it is completely different as I discussed above.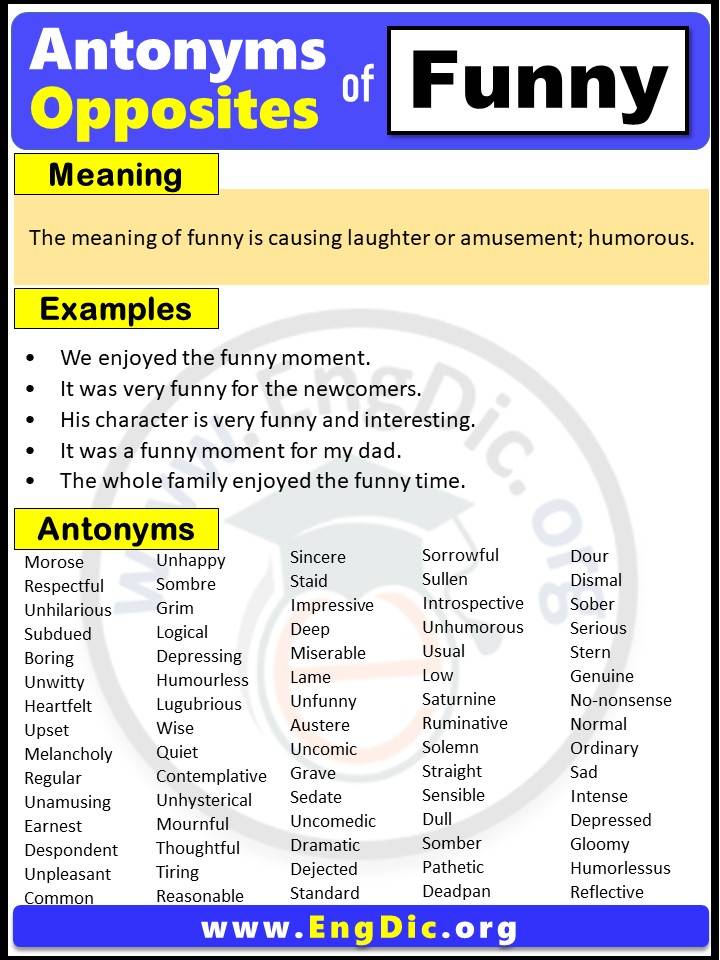 What is the meaning of funny?
The meaning of funny is causing laughter or amusement; humorous.
Opposite of Funny (Antonyms of Funny)
Morose
Respectful
Unhilarious
Subdued
Boring
Unwitty
Heartfelt
Upset
Melancholy
Regular
Unamusing
Earnest
Despondent
Unpleasant
Common
Unhappy
Sombre
Grim
Logical
Depressing
Humourless
Lugubrious
Wise
Quiet
Contemplative
Unhysterical
Mournful
Thoughtful
Tiring
Reasonable
Sincere
Staid
Impressive
Deep
Miserable
Lame
Unfunny
Austere
Uncomic
Grave
Sedate
Uncomedic
Dramatic
Down in the dumps
Dejected
Standard
Sorrowful
Sullen
Introspective
Unhumorous
Usual
Low
Saturnine
Ruminative
Solemn
Straight
Sensible
Dull
Somber
Pathetic
Deadpan
Dour
Dismal
Sober
Serious
Stern
Genuine
No-nonsense
Thought-provoking
Normal
Ordinary
Sad
Intense
Depressed
Gloomy
Humorlessus
Reflective
Reverent
Pensive
Tragic
Examples of Funny in Sentences
We enjoyed the funny moment.
It was very funny for the newcomers.
His character is very funny and interesting.
It was a funny moment for my dad.
The whole family enjoyed the funny time.
More Opposite Words List
Many – Few
Light – Dark
Lie – Stand
Lead – Follow
Late – Early
Humane – Cruel
Guest – Host
Autumn – Spring
Whole – Part
Whole – Part
Wealth – Poverty
Vowel – Consonant
Vertical – Horizontal
True – False
Then – Now
Sugar – Salt
Same – Different
Hard – Easy
Divorced – Married
Brother – Sister
Arrival – Departure
Arrest – Free
Animal – Human
Always – Never
About – Exactly
West – East
Wealthy – Poor
Waste – Save
War – Peace
Send – Receive
Security – Danger
Occasionally – Frequently
Nephew – Niece
Low – High
Intelligent – Silly
Insult – Compliment
Include – Exclude
In Front Of – Back
Ignore – Notice
Guest – Host
Full – Empty
Foreign – Domestic
Foreign – Domestic
Floor – Ceiling
Floor – Ceiling
Few – Many
Dangerous – Safe
Cruel – Human
Create – Destroy
Busy – Lazy
Bore – Amuse
Antonym – Synonym
Antonym – Synonym
Always – Never
Allow – Forbid
Against – For
After – Before
Absence – Presence
Simple – Complicated
Rainy – Sunny
Old – Modern
Occasionally – Frequently
Nice – Awful
Mess – Order
Man – Woman
Male – Female
Loser – Winner
Little – Big
Light – Dark
Intentional – Accidental
In – Out
Immigrate – Emigrate
High – Deep
Everybody – Nobody
Agree – Refuse
Over – Under
Hilly – Flat
Gentle – Violent
Finish – Start
Fast – Slow
Ending – Beginning
Dusk – Dawn
Drama – Comedy
Defence – Attack
Deep – Shallow
Dawn – Dusk
Cry – Laugh
Construction – Destruction
Compliment – Insult
Closed – Open
Behind – In Front Of
Accept – Refuse
Voluntary – Compulsory
Light – Dark
Left – Right
Harvest – Plant
Front – Rear
Defeat – Victory
Cool – Warm
Compliment – Insult
Cold – Hot
Cold – Heat
Cheap – Expensive
Changeable – Constant
Bottom – Top
Boring – Exciting
Beginning – End
Background – Foreground
Angel – Devil
Soft – Hard
Question – Answer
Presence – Absence
Peace – War
Miss – Catch
Last – First
Insult – Compliment
Import – Export
Ill – Healty
Ill – Healty
Ill – Healthy
Happy – Sad
Guest – Host
Good Luck – Bad Luck
Girl – Boy
Gentleman – Lady
Elementary – Advanced
Wife – Husband
Wealthy – Poor
Unity – Division
Smooth – Rough
Smooth – Rough
Partial – Total
Moderate – Extreme
Land – Take Off
Insult – Compliment
Inside – Outside
Innocent – Guilty
In Front Of – Back
Humane – Cruel
Here – There
Handsome – Ugly
Future – Past
Forget – Remember
Foreground – Background
Fat – Slim
Everything – Nothing
Drama – Comedy
Descent – Ascent
Death – Birth
Certainly – Probably
Careful – Careless
Brother – Sister
Brave – Cowardly
Awake – Asleep
Argue – Agree
Apart – Together
Answer – Question
Ancestor – Descendant
Amateur – Professional
Whisper – Scream
Useful – Useless
Upstairs – Downstairs
Then – Now
Stop – Start
Start – Stop
Start – Finish
Stand – Lie
Sit – Stand
Simple – Complicated
Set Free – Arrest
Sad – Happy
Pupil – Teacher
Over – Under
Over – Under
Ill – Healthy
Good Luck – Bad Luck
Finish – Begin
Final – First
Fear – Courage
Equal – Different
Enemy – Friend
Emigrate – Immigrate
Drama – Comedy
Domestic – Foreign
Destruction – Construction
Defense – Attack
Deep – Shallow
Courageous – Cowardly
Centre – Outskirts
Be Interested In – Bore
Ask – Answer
Ascent – Descent
Rough – Smooth
Lovely – Terrible
Lady – Gentleman
Huge – Tiny
Hilly – Flat
Give – Take
Front – Rear
Follow – Lead
Fail – Succeed
Extreme – Moderate
Even – Odd
Entrance – Exit
Down – Up
Divorced – Married
Division – Unity
Cry – Laugh
Be Interested In – Bore
Short – Long
Never – Always
Nephew – Niece
Master – Servant
Low – High
Liquid – Solid
Like – Hate
Laugh – Cry
Land – Take Off
Junior – Senior
Hit – Miss
Heaven – Hell
Happiness – Sadness
Guest – Host
Friend – Enemy
Failure – Success
Affirmative – Negative
Start – Finish
Off – On
Lose – Win
Heavy – Light
Guest – Host
Generous – Mean
Frequently – Occasionally
Form – Destroy
Fear – Courage
Exposure – Shelter
Exit – Entrance
Exclude – Include
Drama – Comedy
Division – Unity
Dictatorship – Republic
Dead – Alive
Brother – Sister
Normal – Strange
Married – Divorced
Junior – Senior
Give – Take
Funny – Serious
Fortune – Bad Luck
Fortune – Bad Luck
Fix – Break
Fast – Slow
Export – Import
Exclude – Include
Everything – Nothing
Empty – Full