Are you planning to add a four-legged family member to your home? Are you looking for the perfect name that will capture the personality of your pooch and make them stand out from all the other dogs in the park? If so, then here are 20 unique female dog names that have been hand-picked just for you!
Each of these names comes with its own special story or backstory to help make sure your pup stands out from the crowd. Stick around until the end for helpful tips on how to determine what kind of name is best suited for your canine companion.
20 Unique Female Dog Names
Here are unique names for girl dogs.
Jennifer
Karma
Xanti
Mackenzie
Queenie
Hope
Abigail
Lulu
Rosie
Princess
Becca
Unity
Lexi
Ellie Rose
Sugar
Reese
Suki
Trixie
Fiona
Valor
You may Like to Read:
Unique Girl Puppy Names with Meanings
1- Jennifer: A Welsh name meaning "fair" or "white".
2- Karma: A Sanskrit word meaning "action" or "fate", often associated with the idea of moral cause and effect.
3- Xanti: A Basque name meaning "new house" or "hospitality".
4- Mackenzie: A Scottish name meaning "son of Kenneth" or "fair one".
5- Queenie: A name of English origin, meaning "queen".
6- Hope: A virtue name that represents optimism and positive expectation.
7- Abigail: A Hebrew name meaning "my father's joy" or "father's rejoicing".
8- Lulu: A name of Arabic origin meaning "pearl".
9- Rosie: A name that means "rose flower", often associated with sweetness and beauty.
10- Princess: A name that means "royal daughter" or "queen".
11- Becca: A shortened form of the name Rebecca, which means "servant of God".
12- Unity: A virtue name that represents harmony and togetherness.
13- Lexi: A name that means "defender" or "helper".
14- Ellie Rose: A combination of two names, Ellie meaning "light" or "bright" and Rose representing the flower.
15- Sugar: A sweet name that represents affection and endearment.
16- Reese: A name of Welsh origin meaning "enthusiasm" or "fiery".
17- Suki: A name of Japanese origin that means "loved one".
18- Trixie: A name that means "bringer of joy" or "lucky".
19- Fiona: A name of Scottish origin meaning "white" or "fair".
20- Valor: A name that represents courage, bravery, and strength.
Related:
Names for Your Black, Brown, Spotted, and Tricolor Dogs.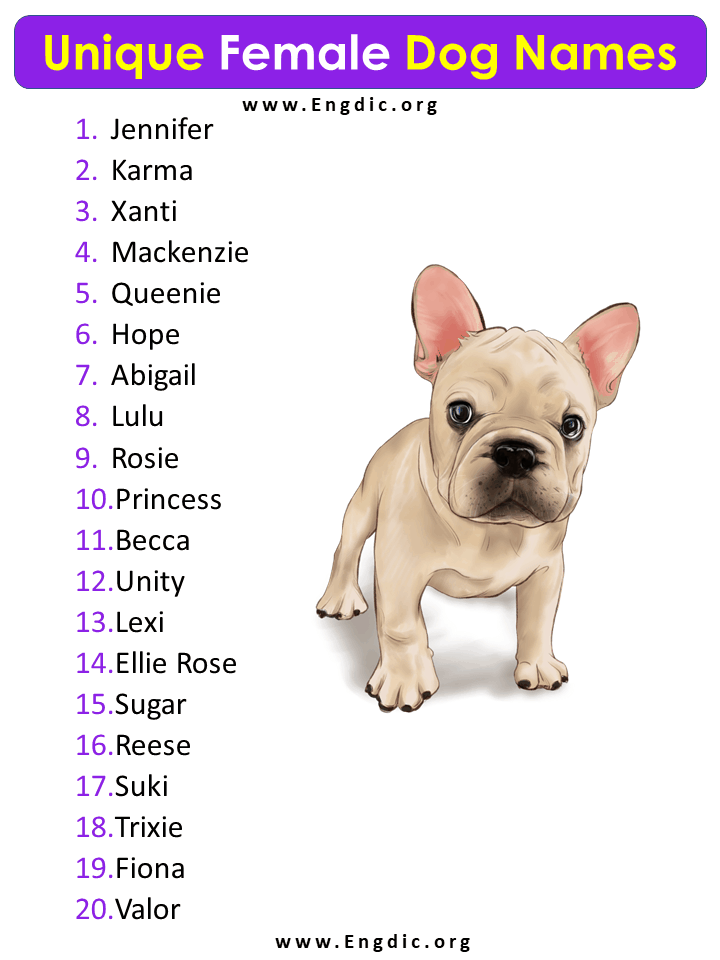 Last updated on March 24th, 2023 at 11:00 am