Zoo animals are species that are commonly kept in zoos for public viewing and conservation efforts, like lions, elephants, and penguins.
Must Read: Animals Name (Complete List)
Zoo Animals Name
Below is the list of zoo animals.
Stick Insect
Seal
Plains zebra
Great hornbill
Guam Rail
Black bear
Hippo
Opossum
Toad
Elephant
Snowy egret
Stork
Goliath Frog
Black milk snake
African penguin
Green aracari
Andean condor
Python
Rhinoceros
Swan
Eagle
Cheetah
African elephant
Chameleon
Green mamba
Kinkajou
Mountain Lion
Sloth Bear
Flamingo
Giant anteater
Fox
Reptiles
Lion
Tapir
Kori bustard
Crane
Guinea Pig
Gelada
Waxbill
Butterflies
Antelope
Porcupine
Armadillo
Hummingbird
Honeybee
Muntjac
Frigatebird
Macaw
Elk
Squirrel
Hamster
Indochinese tiger
Cobra
Wallaby
Giant Panda
Roadrunner
Oryx
Raccoon
Koi
Coconut lorikeet
Vulture
Wombat
Cave snake
Guenon
Agouti
Kingfisher
Hawk
Orangutan
Echidna
Frog
Cougar
Hermit crab
Wild turkey
Kiwi
Secretary bird
Lemur
Duck
Mute swan
Fruit bat
Desert tortoise
Green iguana
Peafowl
Gundi
Pallas's cat
Fishing Cat
Drill
Skunk
Saiga
Butterfly
Box turtle
Cottonmouth
Sandhill crane
Hornbill
Black vulture
Ladybug
Giraffe
Wolf
Dragonfly
Chimpanzee
Vasa parrot
Meerkat
Panda
Shoebill
Redfish
Impala
Mammals
Ant
Ringtail
Bubble coral
Sea Lion
Mandrill
Ostrich
Marsupial
Puffin
Iguana
Aardvark
Klipspringer
Singing Dog
Sand cat
Inca tern
Caecilian
Guanaco
Baboon
Reindeer
Lizard
Spider monkey
Female saiga
Crocodilian
Caiman lizard
Monkey
Congo buffalo
Andean Bear
Grey fox
Garden tree boa
Tree kangaroo
Laughing Gull
Gorilla
Golden eagle
Capybara
Serval
Dhole
Inca dove
Horse
Pigeon
Bowerbird
Puffer fish
Crocodile
Red river hog
Siamang
Sengi
Kagu
African lion
Koala
Lynx
Asian elephant
Lionfish
Fish
Yak
Emu
Cockatoo
Sea star
Harris Hawk
Parrot
Wild Cattle
Rabbit
Rattlesnake
Anaconda
Toucan
Gharial
Bush dog
Cassowary
Ape
Coyote
Skipper
Black rhino
Boa
Kite
Toadfish
Tuatara
King vulture
Okapi
Bobcat
Swift fox
Texas tarantula
Clownfish
Snake
Small Cat
Rooster
Cane toad
Black lemur
Pelican
Zebra
Newt
Koala
Centipede
Prairie dog
Quokka
Flying fox
African Plains
Bald eagle
Archer Fish
Cardinal tetra
Platypus
Tenrec
Wood stork
Coati
Dwarf caiman
Peccary
Turtle
White pelican
Alligator
Scorpion
Gerenuk
Emerald starling
oncilla
Piranha
Kangaroo
Cichlid
Jacana
Butterfly fish
Tiger
Hamburg chicken
Electric Eel
Crowned lemur
Polar Bear
Hyena
Salamander
Sloth
Quail
Warthog
Bonobo
Tarantula
Dolphin
Giant otter
Camel
Otter
Kudu
Bat
Bony fish
Panther
Jaguar
Coral snake
Aldabra tortoise
Beetle
Tortoise
Caracal
Sparrow
Ferret
Bee
Tufted deer
Spider
Bontebok
Hippopotamus
Gila monster
Leopard
Fossa
Mole
Owl
Spotted gar
Scarlet macaw
Anteater
Poison Frog
Woodpecker
Blue crane
Ibis
Takin
Hedgehog
Amphibian
Red panda
Moth
Whale
Walrus
Deer
Kingsnake
Komodo dragon
Penguin
Sifaka
Bear
Red wolf
Turkey
Brown Bear
Roan antelope
Manatee
Peacock
100 Most Common Zoo Animals
Bat
Pigeon
Echidna
Anteater
Gila monster
Horse
Orangutan
Monkey
Koala
Cockatoo
Parrot
Wolf
Jaguar
Panther
Rabbit
Lion
Impala
Ostrich
Kangaroo
Seal
Puffin
Bongo
Elephant
Walrus
Armadillo
Lemur
Skunk
Owl
Ape
Quail
Hippopotamus
Opossum
Iguana
Okapi
Hamster
Penguin
Elk
Hedgehog
Guanaco
Baboon
Tiger
Crane
Zebra
Snake
Clownfish
Pelican
Camel
Sparrow
Hummingbird
Beetle
Peacock
Yak
Leopard
Giraffe
Kiwi
Lynx
Rattlesnake
Gorilla
Lizard
Toucan
Coati
Hawk
Rooster
Lionfish
Kite
Centipede
Squirrel
Eagle
Hippo
Komodo dragon
Bear
Hyena
Swan
Woodpecker
Reindeer
Nilgai
Cheetah
Vulture
Turkey
Mole
Red panda
Fox
Flamingo
Drill
Duck
Crocodile
Panda
Rhinoceros
Hermit crab
Platypus
Newt
Chameleon
Alligator
Scorpion
Numbat
Kudu
Frigatebird
Deer
Turtle
Kingfisher
Top 10 Most Popular Zoo Animals and Fun Facts
Here are the top 10 most popular zoo animals and some fun facts about each of them:
1۔ Lions:
Lions are known as the "king of the jungle" even though they don't actually live in jungles.
Male lions have a distinctive mane around their neck, which serves to make them look larger and more intimidating.
Lions are highly social animals, living in prides that typically consist of related females and their offspring.
2۔ Elephants:
Elephants are the largest land animals on Earth.
They have a long trunk, which they use for various tasks, including breathing, drinking, and picking up objects.
Elephants are highly intelligent and have excellent memories. They can recognize themselves in mirrors and remember locations of water sources over long distances.
3۔ Giraffes:
Giraffes are the tallest living animals, with long necks and long legs.
Their necks are not actually long enough to reach the ground, so they need to spread their legs or kneel to drink water.
Giraffes have a unique coat pattern, with no two individuals having the same pattern.
4۔ Panda: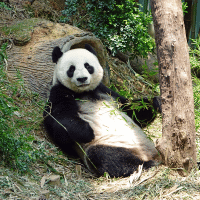 Pandas have a "sixth finger" that helps them grip bamboo.
Despite their size, pandas are skilled tree climbers.
Pandas spend up to 14 hours a day eating bamboo.
5۔ Tigers:
Tigers are the largest cat species and are known for their striking orange coat with black stripes.
They are excellent swimmers and are often found in habitats with water, such as mangrove swamps and rainforests.
Tigers are solitary animals and are known for their strength and agility.
6۔ Koalas: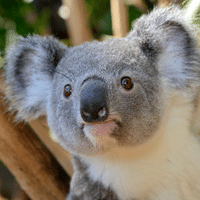 Koalas are native to Australia and are known for their cuddly appearance.
They primarily feed on eucalyptus leaves, which provide them with most of their water and nutrients.
Koalas sleep for up to 20 hours a day and are primarily nocturnal animals.
7۔ Gorillas:
Gorillas are the largest primates and share about 98% of their DNA with humans.
They live in social groups called troops, led by a dominant silverback male.
Gorillas are herbivores and primarily feed on leaves, stems, and fruits.
8۔ Penguins:
Penguins are flightless birds that are well-adapted to life in the water.
They have a layer of fat and dense feathers that keep them warm in cold environments.
Penguins are known for their distinct waddling walk and their ability to "fly" underwater.
9۔ Red pandas:
Red pandas are small, arboreal mammals native to the eastern Himalayas and southwestern China.
They have a distinctive reddish-brown coat and a long, bushy tail.
Red pandas primarily feed on bamboo, but they also eat fruits, berries, and eggs.
10۔ Dolphins:
Dolphins are highly intelligent marine mammals known for their playful behavior.
They are excellent swimmers and are known for their acrobatic leaps and flips out of the water.
Dolphins communicate with each other using a complex system of clicks, whistles, and body movements.
These animals are among the most popular attractions in zoos around the world due to their unique characteristics and fascinating behaviors.