30 other ways to say good luck! here is the list of all other cute, funny and clever ways to say good luck to your friends and dear ones. You can download the pdf of this lesson.
Other ways to say Good Luck
Cute ways to say good luck
All the very best to you.
As you go forward, always remember that I am your biggest fan.
Be a Viking!
Be your own boss.
Believe in yourself, and you will make it happen.
Best of luck!
Best of luck, buddy!
Best wishes.
Bi't-tawfiq. ('Good fortune' in Arabic.)
Blow them away!
Bonne chance. ('Good luck' in French.)
Break a leg!
Bring home the moolah!
Bring the trophy home!
Buena suerte! ('Good luck' in Spanish.)
Build a foundation with the bricks that others throw at you.
Buona fortuna! ('Good fortune' in Italian.)
Call on a higher power, and you will succeed.
Come back a legend!
Do yourself justice, coz ye deserve it.
Don't mess it up, bruh.
Everything will work out just fine, I am sure of it.
Fare thee well!
Fight on bruh!
Find your fortune.
Fingers crossed!
Fortune always favors the bold.
Gambatte! ('Do your best' in Japanese.)
Different ways to say good luck
Go forth and conquer, young man/ woman.
Go get them, tiger!
Go hit the jackpot!
Go with God, and don't take any wooden nickels!
Go! Have fun storming the castle!
Go, blow them away!
Go, make a difference!
Godspeed
Godspeed, friend!
Hang in there; it's going to be alright.
Have a blast!
Have fun while winning it!
Here is hoping that all of your efforts are fruitful.
Here is wishing that everything will turn out just fine.
Here's a four-leaf clover I picked just for you.
Here's a rabbit's foot.
I am 100% confident that you will do very well.
I am rooting for you.
I am voting for you!
I hope everything will be all right.
I hope things will turn out fine..
I hope you win, buddy!
I know that God will guide you and always keep you on the right path.
I Wish You Good Luck, Rock on!
I wish you luck!
It really doesn't matter what you do. I hope good luck is always with you.
Iyi şanslar! ('Good luck' in Turkish.)
Jūk néih hóuwahn. ('Good luck' in Cantonese.)
Kalí tíhi! ('Good luck' in Greek)
Keeping my fingers crossed!
Also check. Ways to say Happy Birthday
Funny ways to say good luck
Kick their asses!
Knock them dead!
Knock them dead, pal!
Let me know when you win it!
Live super long and prosper!
Luck to you!
Make good choices, and you shall win.
Many many blessings to you.
May God bless you – because you deserve it.
May Lord give you the courage to face any challenge with a smile.
May luck be in your favor, darling!
May the blessings of *insert name of a famous celebrity here* be with you!
May the force be with you!
May the forces of evil be nowhere near your path to success.
May the good lord be with you.
May the odds be in your favor.
May the winds of fortune always blow in your favor.
May you easily access all the information you have stored in your brain.
May your efforts yield a positive result.
May your faith guide you in whatever you do.
May your future be filled with joy, love, and all the other amazing stuff.
May your roads always be smooth, and your burdens always be light.
Mesmerize them, bud!
Mihi fotunam spera. ('Good luck' in Latin.)
My prayers are with you.
Party on!
Pull off the heist successfully!
Remember me when you are famous!
Schwein haben. ('Good fortune' in German).
Also Check. Ways to say good night
Cute ways to say good luck
Smooth sailing friend!
Stun them all with your amazing performance!
Take home the bacon buddy!
Take the crown home!
There is a 50-50 chance that you will succeed, and I am rooting for the positive 50.
There is absolutely no one better than you to take on this challenge.
Throw salt over your shoulder, and see your opponents lose.
To infinity and beyond!
Up and at 'em!
Use your head, make them cry!
Viel Glück. ('Good luck' in German)
Will you give me your autograph when you make it super big?
Win big time!
Wishing you a lot of luck!
Wishing you lots of luck!
You are going to be amazing!
You are the ace!
You got this, sweetheart.
You have my 100% support.
You were made for this!
You were made for this. You got it!
You will do great!
You'll do great!
I hope things will work out all right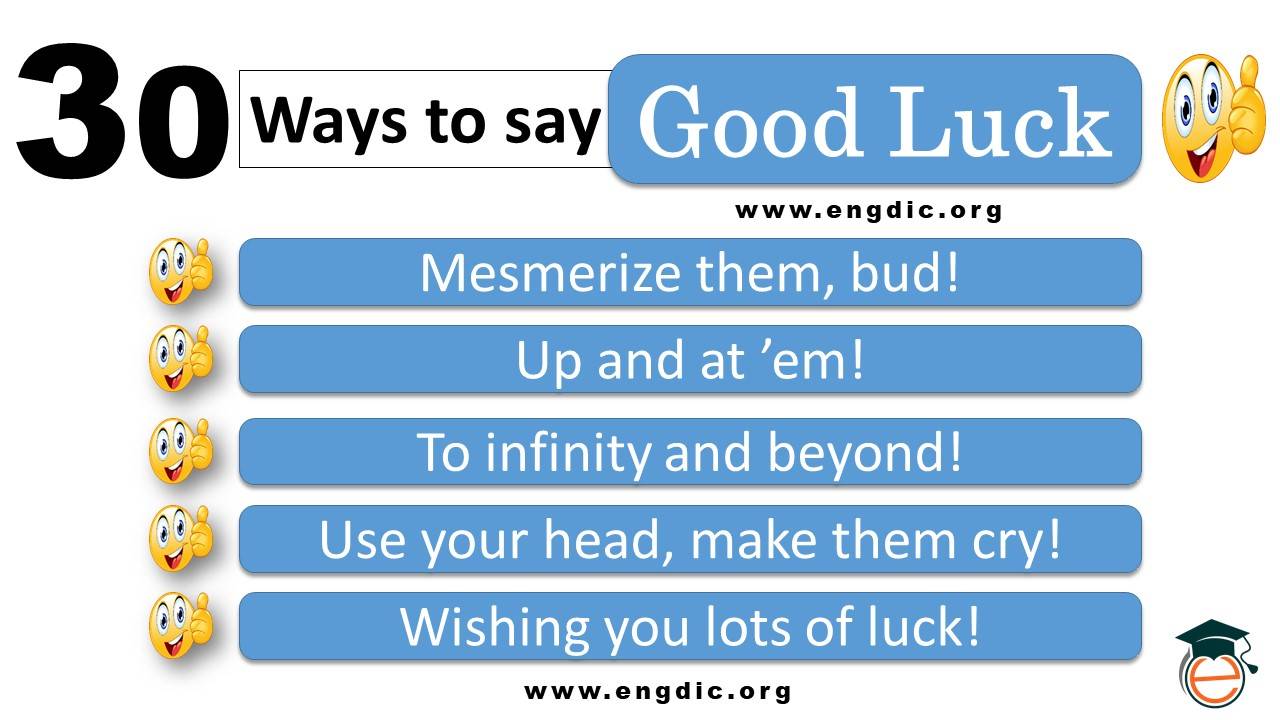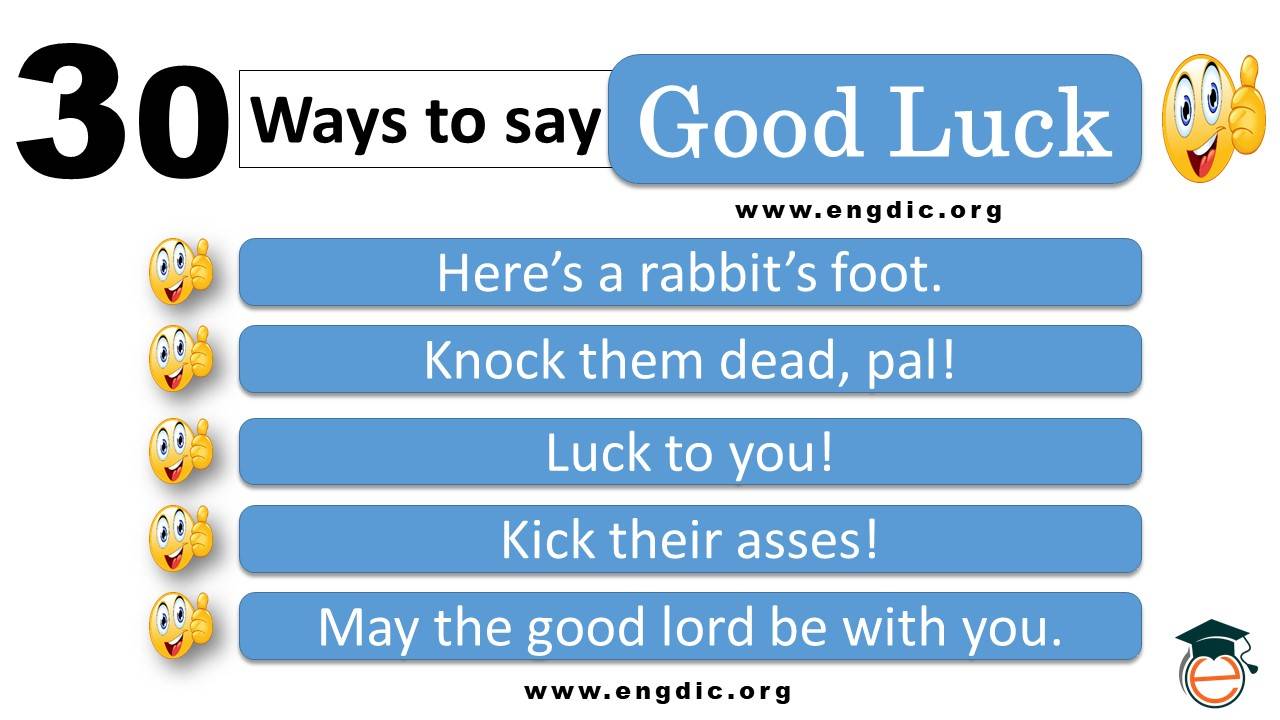 You can Download PDF of this lesson.