What Does Attractive Female Mean?
"Attractive female" typically refers to a woman who is perceived as visually appealing or pleasing due to a combination of physical features, grooming, and personal charm. This perception can be subjective and influenced by cultural and individual preferences.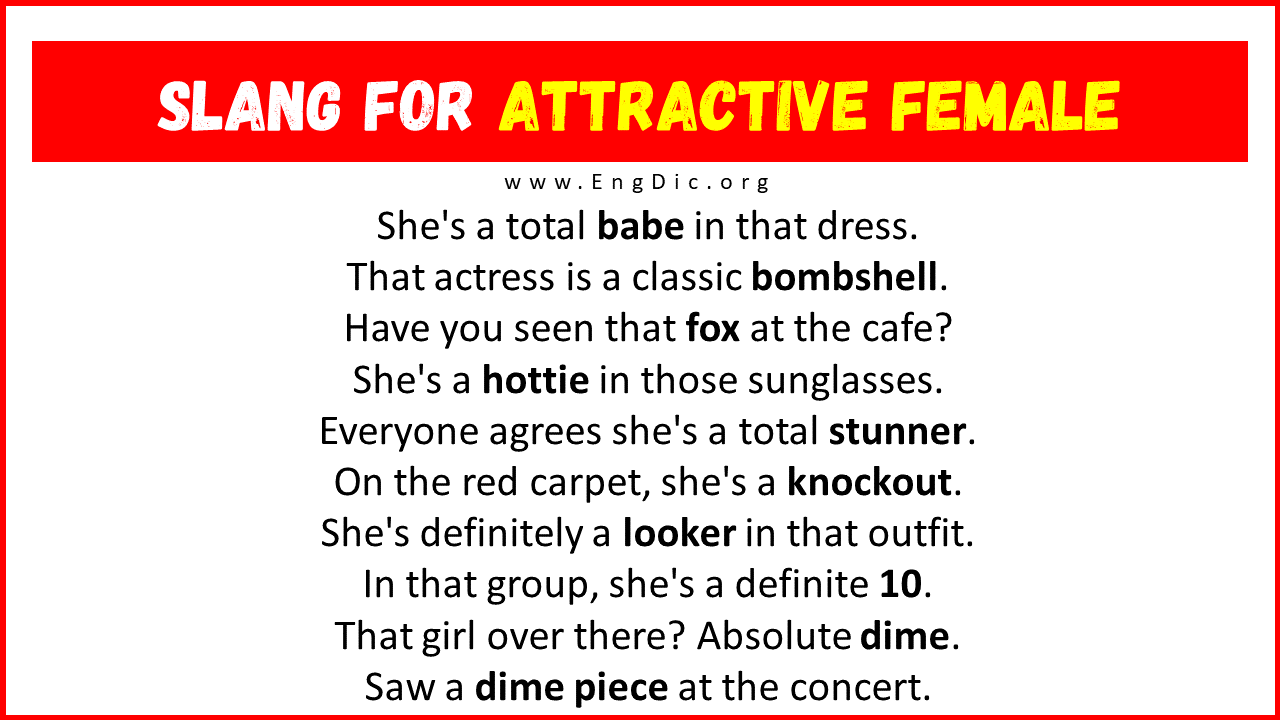 Slang Words for Attractive Female
Here is the list of slang words for Attractive Female:
Babe
Bombshell
Fox
Hottie
Stunner
Knockout
Looker
10 (as in "she's a 10")
Dime
Dime piece
Smoke show
Beauty
Vixen
Doll
Cutie
Goddess
Diva
Fly girl
Angel
Siren
Gem
Flame
Beauty queen
Heartbreaker
Starlet
Dreamboat
Enchantress
Sweet thing
Pin-up
Ladykiller
Use of Attractive Female Slangs in Example Sentences
She's a total babe in that dress.
That actress is a classic bombshell.
Have you seen that fox at the cafe?
She's a hottie in those sunglasses.
Everyone agrees she's a total stunner.
On the red carpet, she's a knockout.
She's definitely a looker in that outfit.
In that group, she's a definite 10.
That girl over there? Absolute dime.
Saw a dime piece at the concert.
The party had this one smoke show.
In that portrait, she's a true beauty.
She has the confidence of a vixen.
Met a doll at the vintage shop.
She's a cutie, especially with that hat.
On stage, she looks like a goddess.
She carries herself like a true diva.
Back in the '90s, she was a fly girl.
In white, she looks like an angel.
Her voice is seductive like a siren.
She's the gem of the fashion show.
In red, she's an absolute flame.
She could be the next beauty queen.
She's known as the town heartbreaker.
The director called her his new starlet.
With that charm, she's a real dreamboat.
On stage, she's pure enchantress.
He keeps calling her his sweet thing.
With that style, she's a pin-up dream.
Some say she's a true ladykiller.
Explore More Slang Words: