Opposite of Noisy, Antonyms of Noisy with meaning and Example Sentences in English
What are opposite words or antonyms?
Opposite words or Antonyms means those words that oppose the meaning of each other completely. For example Dark/Light, White/Black etc.
Normally the question that comes to mind when we are trying to learn these vocabulary words is that "Why should I memorize these Opposites when I know the basic words?"
Before answering to your question I would like to tell you that we have covered almost all the basic and daily use vocabulary words and you can Download PDF of these words at the End of lesson.
These words are very useful in our daily routine vocabulary. Here I will tell you what are the benefits of using antonym and opposites? If you know the opposites of all the vocabulary words in your collection then your collection can be increased and you have a variety of words to use in your conversation. In your writing and speaking if you use the variety of words instead using repeating the same words it will cast a good impression. And your writing and speaking will become professional.
Note: You must know that antonyms and synonyms are two different terms. Synonyms means the words that have same meanings but in case of antonym it is completely different as I discussed above.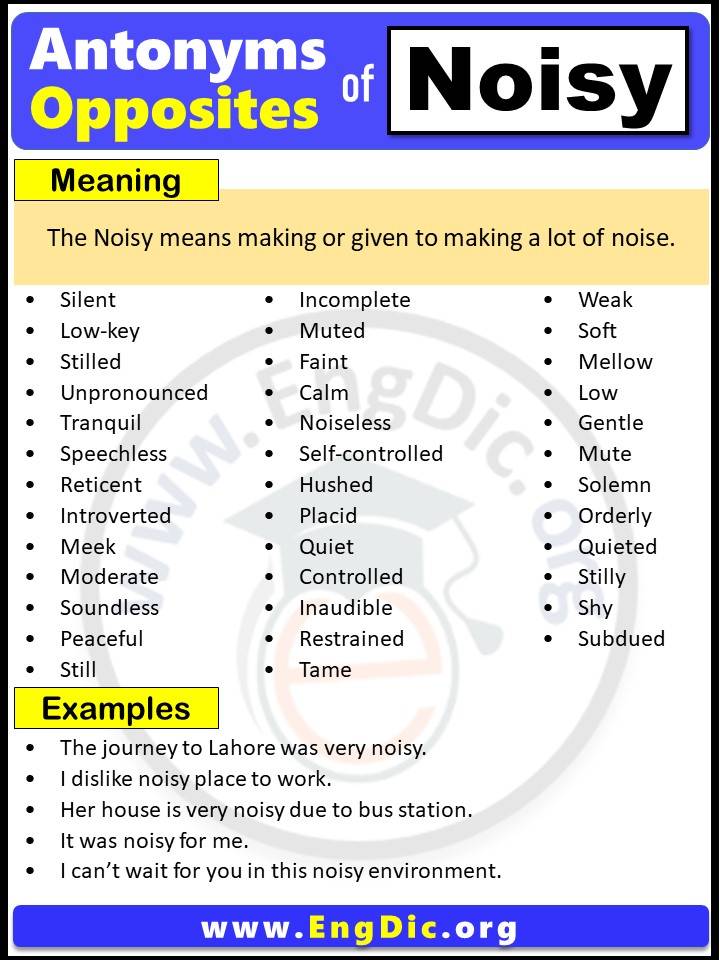 What is the meaning of Noisy?
The Noisy means making or given to making a lot of noise.
Opposite of Noisy (Antonyms of Noisy) List
Silent
Low-key
Stilled
Unpronounced
Tranquil
Speechless
Reticent
Introverted
Meek
Moderate
Soundless
Peaceful
Still
Incomplete
Muted
Faint
Calm
Noiseless
Self-controlled
Hushed
Placid
Quiet
Controlled
Inaudible
Restrained
Tame
Weak
Soft
Mellow
Low
Gentle
Mute
Solemn
Orderly
Quieted
Stilly
Shy
Subdued
Examples of Noisy in Sentences
The journey to Lahore was very noisy.
I dislike noisy place to work.
Her house is very noisy due to bus station.
It was noisy for me.
I can't wait for you in this noisy environment.
You can Download Pdf of the opposite/Antonyms of Noisy.