Opposite of Arrive, Antonyms of arrive with meaning and Example Sentences in English PDF
What are opposite words or antonyms?
Opposite words or Antonyms means those words that oppose the meaning of each other completely. For example Dark/Light, White/Black etc.
Normally the question that comes to mind when we are trying to learn these vocabulary words is that "Why should I memorize these Opposites when I know the basic words?"
These words are very useful in our daily routine vocabulary. Here I will tell you what are the benefits of using antonym and opposites? If you know the opposites of all the vocabulary words in your collection then your collection can be increased and you have a variety of words to use in your conversation. In your writing and speaking if you use the variety of words instead using repeating the same words it will cast a good impression. And your writing and speaking will become professional.
Note: You must know that antonyms and synonyms are two different terms. Synonyms means the words that have same meanings but in case of antonym it is completely different as I discussed above.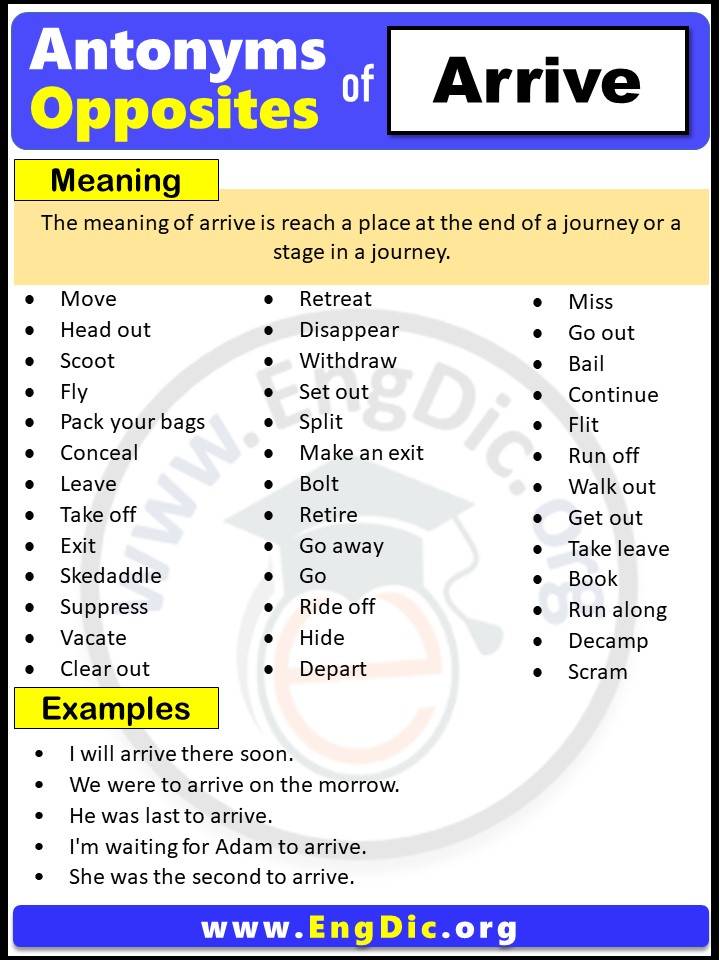 What is the meaning of arrive?
The meaning of arrive is reach a place at the end of a journey or a stage in a journey.
Opposite of Arrive (Antonyms of Arrive)
Move
Head out
Scoot
Fly
Pack your bags
Conceal
Leave
Take off
Exit
Skedaddle
Suppress
Vacate
Clear out
Retreat
Disappear
Withdraw
Set out
Split
Make an exit
Bolt
Retire
Go away
Go
Ride off
Hide
Depart
Miss
Go out
Bail
Continue
Flit
Run off
Walk out
Get out
Take leave
Book
Run along
Decamp
Scram
Make off
Set off
Examples of Arrive in Sentences
I will arrive there soon.
We were to arrive on the morrow.
He was last to arrive.
I'm waiting for Adam to arrive.
She was the second to arrive.