Different Types of Transition Words in a List Pdf!
What are Transition Words in English?
In English, a transition word is a word that indicates a relationship between two phrases or different parts of writing. Sometimes transition words are used to show important stages of thinking in common writing practice.
Here is a shortlist of Transition Words for quick understanding:
Accordingly
Thus
Thereupon
Therefore
Then
Hence
Forthwith
For this reason
Due to
What are the Types of Transition Words?
There are two basic types of transitions, conjunctive adverbs and conjunctions.
But on the basis of relationship and different stages of thinking transition words can be divided into the following categories:
Order
Emphasis
Reason
Illustration
Contrast
clarifications
Comparison / similarity
Conclusion
Condition
Concession
Generalization
Restatement
Reference
Space / Location
Result
List of Transition Words / Examples
Order
Before
At this time
After
Above all
About
Tomorrow
To begin with
Third/ thirdly
Subsequently
Since
Second/ secondly
Prior to
Previously
Once
Now
Not long after
Next
Momentarily
Later
Lastly and most importantly
Last but not least
In turn
In the first place
From this point
Following
First/ firstly
Finally
Eventually
Emphasis
Besides
As well as that
As well as
Apart from this
And
Also
Along with
Additionally / an additional
Absolutely
Above all
Without a doubt
With attention
Unquestionably
Undoubtedly
Truly
Too
Together with
To repeat
To emphasize
To clarify
Third
Surprisingly
Similarily
Second
Positively
Particularly / in particular
Of course
Obviously
Not to mention
Not only…but also
Never
Naturally
Moreover
Last
It should be noted
Indeed
In truth
In the same fashion
In detail
In addition to this
In addition
Importantly
Furthermore
Further
First
Finally
Even
Especially
Definitely
Coupled with
Clearly
Chiefly
Reason
Granted that
Given that
For the purpose of
Because of
With this purpose
With this intention
With this in mind
So that
Seeing that
Provided that
Owing to
In view of
In order to
In fact
Also check: 100 Common Grammar Mistakes to Avoid
Illustration
Illustrated by
For one thing
For example/ For instance
As an example of
To simplify
To demonstrate/ To clarify
To demonstrate
To clarify
Such as
Specifically
Proof of this
On this occasion
Namely
Like
Including
In this situation
In this case
In the case of
In another case
Contrast
Conversely
Contrary to
Contrarily
As opposed to
Alternatively
Yet
While
Whereas
Up against
Unlike
Though
Rather
On the other hand
Notwithstanding
Nor
Nonetheless
Nevertheless
Instead
In opposition
In contrast (to)
However
Even so
Differing from
Despite/in spite of
Clarification
To simplify
To put it in another way
To put it clearly
To make plain
To explain
To clearly define
To break it down
That is to say
Simply stated
Simply put
In simple terms
In other words
Inlay terms
In explanation
I mean
Comparison/Similarity
By the same token
Both
As with
As with
Alike
Still another
Similarly
Similarly
Similar to
Same as
Resembles
Of contrast
Most important
Likewise
Likewise
Like
Just like
Just as…so too
Just as
In the spitting image of
In the same way
In the same way
In like manner
In contrast
In comparison
In common
In a similar manner
Even though
Equally
Equal
Either
Despite this
Correspondingly
Compare / compare(d) to (with)
Also check: List of adverbs
Conclusion
By and large
Briefly
As you can see
As shown above
As noted
As demonstrated above
Altogether
All things considered
Usually
Ultimately
To summarize
To sum up
To end
To conclude
Therefore
Overall
On the whole
In the final analysis
In the end
In summary
In short
In essence
In conclusion
In brief
In any event
In a word
Given these points
Generally speaking
Condition
Given that
Even if
Because of
As
Although this may be true
While
Whenever
When
Unless
Then
Since
Only if
On the condition that
Lest
In the event that
In that case
If
Granted that
Concession
And yet
And still
Although/Even though
Although
All the same
Admittedly
Up to a point
Regardless of this
Nonetheless
Nevertheless
In spite of
However
Even though
Even so
Even if
Be that as it may
Generalization
Commonly
Broadly speaking
As a rule
Usually
Typically
Regularly
Predominately
Overall
On the whole
On the whole
Often
Normally
Mostly
More often than not
Mainly
In most cases
In general/ Generally
Generally speaking
For the most part
Restatement
In other words
In a nutshell
Expressed simply
Alternatively stated
Alternatively
To put it differently
That is to say
Simply put
Simplified
Said differently
Reiterated
Put in another way
Put differently
Otherwise stated
Namely
In summation
In simple terms
In simple language
In short
Reference
Considering
Concerning
As far as
As applied to
With respect to
With regards to
The fact that
Speaking about/of
Regarding
Pertaining to
In terms
In connection to
Also check: Confused Words List
Space/ Location
Beneath
Below
At the rear
Around
Adjacent
Adjacent
Across
Underneath
To the left
Surrounding
Over
Opposite
On top
On bottom
Next to
Nearby
Near
Result
Consequently
As a result
As a consequence (of)
Accordingly
Thus
Thereupon
Therefore
Then
Hence
Forthwith
For this reason
Due to
Info-Graphics (Different Transition words List)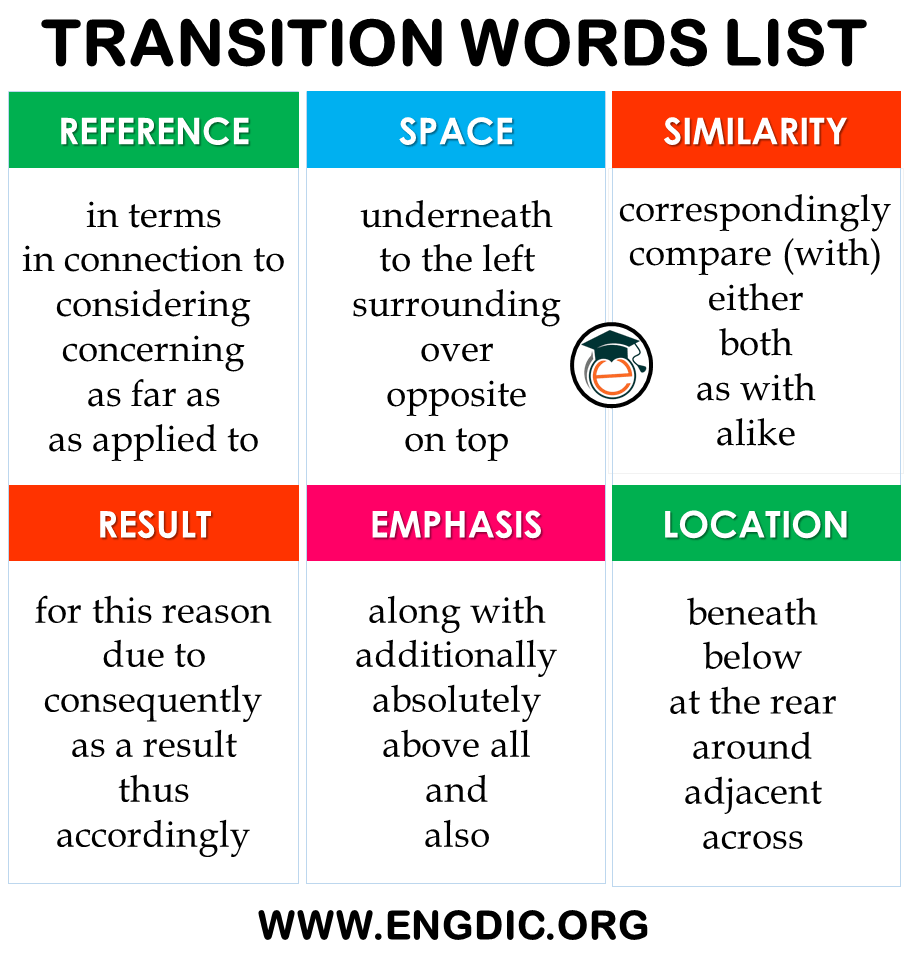 What are Transition words – Video Lesson
Different Types of Transition Words in a List Pdf