"Celebrating your husband's birthday with words that evoke love, fondness, and admiration can make his day even more special. Dive into these 12 short and romantic poems, each crafted to capture the essence of your affection and shared memories, ensuring his birthday is wrapped in poetic warmth."
Short Birthday Poems about Husband
1: Forever by Your Side
Before this poem, let's reflect on the journey of togetherness. It speaks about the emotional bond, the years spent together, and the promise of a lifelong commitment.
Through years and seasons, come what may,

I choose to love you, every single day.

Life has its storms; we've had a few,

But skies look best when they are blue.

In silence and words, in laughter and tears,

Our love has grown over the years.

So on this day, your birth we cheer,

For it brought me love so sincere.

Hand in hand, as the sun dips low,

We have yet more years, love still to show.

For you, my love, I'm grateful, besides,

I promise forever to be by your side.
2: The Heart's Tale
This poem delves into the concept of the heart knowing best, especially when it comes to loving your husband. It reflects on the initial spark, the deepening connection, and the comfort in the relationship.
From the first glance, the heart knew well,

In love's enchanting magic, we both fell.

Years have passed, yet the story's the same,

My heart still dances at the sound of your name.

Life's tapestry we've woven, in colors so grand,

Memories and love, you must understand.

Today celebrates you, the man of my dream,

Who makes life as sweet as a peaches and cream.

As candles flicker on your cake tonight,

My heart whispers its love, pure and bright.

Happy Birthday, love, you're the heart's tale,

A love story that will never ever fail.
3: Your Love, My Anchor
This poem is a tribute to the stabilizing force that a loving husband can be. It touches on the peace, the steadiness, and the safety that love can bring into a relationship.
In this vast sea of life, your love's my anchor,

A steadfast force, in calm and clamor.

The tides may rise, the storms may gather,

Yet, with you, nothing else seems to matter.

Through trials and joys, through thick and thin,

You're my champion, with you, I always win.

So here's to you, on this special day,

A birthday wish, in my own poetic way.

Your love, my guide, through day and night,

A compass true, in darkness and light.

Happy Birthday, dear, forever we'll conquer,

With you as my love, and life's steadfast anchor.
1: The Anchor of My Life
Before you dive into this poem, know that it aims to convey how a husband serves as an emotional anchor in his wife's life. It speaks of his constant support, unwavering love, and the safety he brings.
In life's high tides and lows,

You're the anchor, heaven knows.

You keep me grounded, you keep me sane,

In your love, I've everything to gain.

In moments dark, and daylight too,

Your steady love is ever true.

Through trials and joys, your hand in mine,

With you, life's troubles can't malign.

Forever grateful, I celebrate you today,

On this, your birthday, hear what I say.

You're the love story I proudly tell,

With you, every day's a wish-me-well.
2: The Keeper of My Heart
This poem is a heartfelt declaration of a husband's irreplaceable role as the guardian of his wife's heart. It explores how he enriches her life, making every moment together a cherished memory.
In the chamber of my heart, you reside,

With love, you make each pulse coincide.

My life's story, in you, I confide,

With you, I take the world in stride.

You guard my dreams, you keep my hope,

With you, I feel I've a broader scope.

You're the keeper of my heart, so dear,

In you, I find reasons to cheer.

Happy birthday, love, my life's chart,

You're the forever keeper of my heart.

Each day with you feels like a brand new start,

On your birthday, from love, we'll never part.
Romantic Birthday Poems about Husband
1: Flames of Love
This first poem talks about how love feels as warm and invigorating as a flame. It's a tribute to the everlasting spark that keeps the relationship vibrant and alive.
Our love's like a fire, a beautiful blaze,

Burning brighter still, even through the haze.

On this special day, your birth we hail,

With you, my love, we will never fail.

Years pass by but our flame's still the same,

As strong as the day my heart you first claimed.

Today, we celebrate another year of you,

With cake, with smiles, and love ever true.

In this life's journey, as we lovingly strive,

My love for you makes me feel so alive.

So blow out the candles, make wishes so grand,

In love and in life, forever we'll stand.
2: The Keeper of My Dreams
This poem speaks about the sense of comfort and completeness a loving husband brings into one's life. It delves into the dreams woven together and the safety felt in love.
In your arms, I find a comfort so sweet,

A place where love and dreams do meet.

On this day, I celebrate your love so fine,

A love I'm grateful for, forever mine.

You keep my dreams, tucked close to your heart,

A haven of love, right from the start.

Happy Birthday, love, you're all I've ever known,

The keeper of my dreams, where love has grown.

Through years and decades, as we both age,

Our love is a tale that never leaves the stage.

In your arms, my dreams find their theme,

Happy Birthday to you, the keeper of my dream.
3: The Music of Us
This poem portrays the relationship as a symphony, a beautiful piece of music that is composed day by day. It emphasizes how each partner brings a unique note to the melody of their lives.
Life with you is like a song, so pure,

A melody of love that will forever endure.

Happy Birthday, to the man I adore,

With each passing day, I love you more.

In the orchestra of life, you're my best tune,

A ballad of love, more precious than the moon.

With you, life's lyrics are simply just right,

In the melody of us, love takes its flight.

So let's celebrate, for today is your cue,

To be loved and cherished, as I always do.

Let's dance to the rhythm, of the music of us,

Forever in love, with no end or fuss.
4: A Love that Grows
This poem captures the beautiful evolution of love over time. It celebrates the idea that love is like a garden, flourishing more with each shared moment and every passing year.
In the garden of life, our love is a rose,

Blooming brighter each year, everybody knows.

Happy Birthday, my love, you're my sunshine and rain,

Nurturing a love that eases all pain.

From the first little bud, to petals spread wide,

Your love has been an amazing ride.

Year after year, through laughter and woes,

With you, I've found a love that endlessly grows.

So on this day, your birth we laud,

A momentous day, I thank the Lord.

For each year with you is a bud anew,

In the forever garden of a love so true.
5: Stars of My Sky
This poem likens the husband to the stars in the sky, a consistent and guiding presence. It talks about the inspiration and light that he brings into the relationship.
Like stars in the sky, you light up my life,

A celestial guide, through happiness and strife.

Today we celebrate the day you came to be,

A star so bright, for everyone but especially me.

With each twinkle, a moment of love we share,

In this cosmic dance, nothing else can compare.

On your birthday, my love, you shine so high,

The most brilliant star, in my evening sky.

So let's make a wish, as your candles ignite,

For a future together, ever so bright.

Happy Birthday, love, you're the star of my sky,

With you, life's astral beauty will never say goodbye.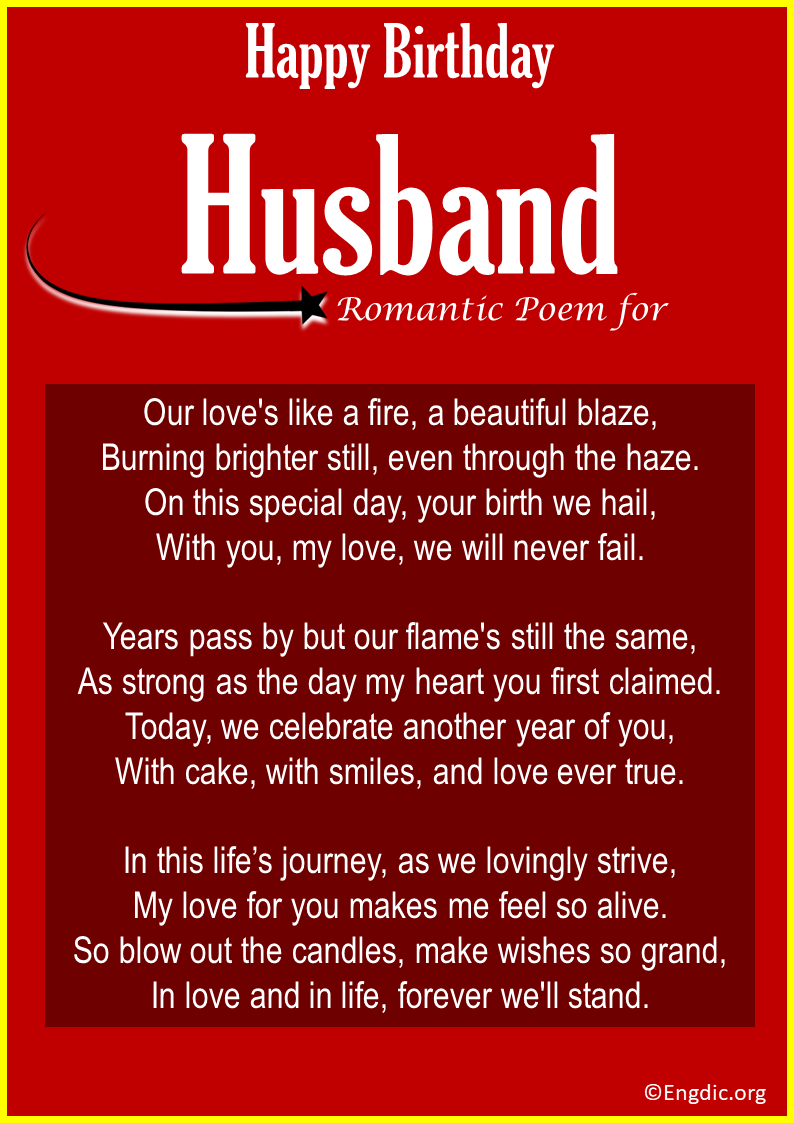 Birthday Poems about Husband in Heaven
1: A Birthday Wish to Heaven
This poem is dedicated to those who have to spend their husband's birthdays with them only in spirit. It speaks about the enduring love that transcends even the barriers of life and death.
Today's the day I can't help but remember,

A special day that we used to spend together.

Candles on earth, and a star in the sky,

I send up a birthday wish, trying not to cry.

The cake's incomplete without you here,

Yet in my heart, your love is still near.

I know you're at peace in Heaven above,

Yet, I still send you all my earthly love.

In dreams and memories, you're never too far,

A love everlasting, my forever shining star.

Happy Birthday in Heaven, my love so dear,

In my heart and my thoughts, you're always near.
2: An Empty Space
This poem talks about the emptiness that might be felt on a day that was once filled with joy and love. It seeks comfort in the idea that though separated by death, love continues in a different form.
An empty space where your laughter used to be,

A hole in my world, only memories can see.

Your birthday's here, a day we used to share,

Now a loving tribute, to show you I still care.

In this quiet moment, I feel you close to me,

Bound by a love that's not confined to earthly plea.

Today, I imagine you're with angels celebrating,

Love eternal, never depreciating.

This empty space, on your birthday, fills with love,

A celestial connection, linking below and above.

Happy Birthday, my love, in Heaven's embrace,

Till we meet again, in that sacred place.
Explore More Related Poems: