Celebrating a daughter's birthday is a heart-warming occasion. As she grows, capturing those emotions in words becomes essential. Here are 10 short birthday poems, crafted with love, from both mom and dad, to express the endless joy she brings into our lives. Dive in and find the perfect verse for her special day!
Birthday Poems for Daughter from Dad
1. Stars in My Sky
Every daughter is a shining star in the vast universe of a father's heart. This poem delves into the luminous bond between a dad and his little girl, illustrating how she lights up his life in countless ways.
With every twinkle in your eye,

You light the night, my star up high.

My world revolves around your glow,

In your love, I truly grow.

From little giggles to big dreams,

You're the magic in life's streams.

For all the moments, big and small,

With you, dear daughter, I stand tall.

May you always shimmer, never fade,

Dance in joy, in sun and shade.

For in my heart, you'll always be,

The brightest star, for all to see.
2. Growing Petals
As flowers bloom, so does a daughter in her father's eyes. This poem captures the essence of watching a daughter grow, transform, and flourish, much like a flower reaching towards the sun.
From a bud, you began to grow,

Into a rose, with each year you glow.

Petals of love, courage, and grace,

Your radiant smile, I can always trace.

With every challenge, you stand so tall,

Petite in frame, yet you conquer all.

Amidst life's thorns, you shine so bright,

My daughter, my joy, my guiding light.

May your fragrance spread, far and wide,

With every step, in confidence stride.

Keep blossoming, in sun and rain,

My love for you, will never wane.
Birthday Poems for Daughter from Mom
1. A Mother's Heartbeat
A mother's love is like a heartbeat; always there, even if not always heard. This poem seeks to express the love, worry, and overwhelming joy that fills a mother as she watches her daughter grow.
In my arms, you first cried,

With each tear, my love's magnified.

Like a heartbeat, constant and true,

My life, my daughter, begins and ends with you.

Through scraped knees and your first word,

I watched you soar, like a free bird.

From pigtails to prom, how you've grown,

My little girl, into a woman you've flown.

As candles flicker on your cake today,

Know my love's with you, come what may.

Endless and pure, my love will be,

Like a heartbeat, felt but free.
2. Forever My Baby
They say you can't hold your child's hand forever, but they will always have a piece of your heart. This poem captures the nostalgia and the evergreen love a mother has for her daughter, no matter her age.
You crawled, you walked, then ran so fast,

Into the future, from my past.

Though years pass by, it's clear to see,

Forever my baby, you will always be.

From crayons to makeup, teddies to phones,

My love for you has only grown.

Each chapter new, but this remains,

My love for you flows in my veins.

Today you're older, wiser too,

My little girl, how you've accrued.

Blow out the candles, make a wish anew,

Forever my baby, my love ever true.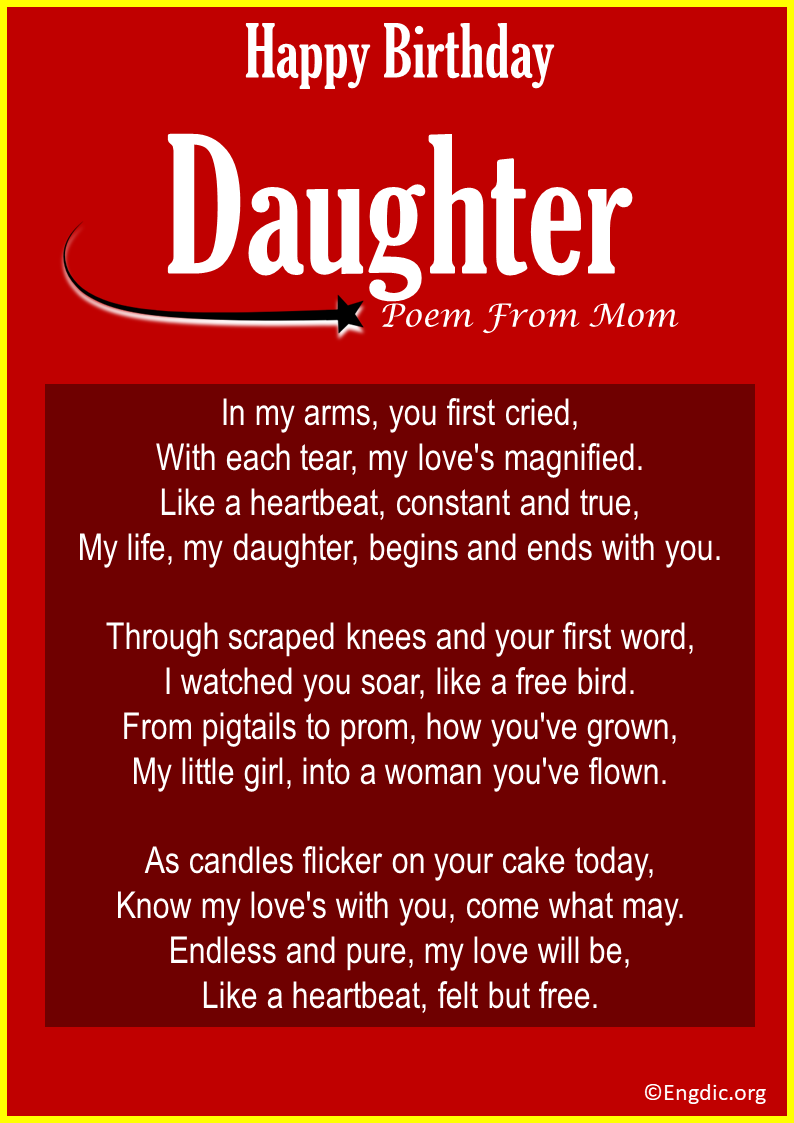 Grown Up Daughter Birthday Poems
1. The Woman You've Become
As daughters grow into adulthood, parents swell with a mix of pride and nostalgia. This poem is an ode to the amazing woman your daughter has become, cherishing her journey from childhood to maturity.
It seems like only yesterday,

You wore pigtails and loved to play.

From climbing trees to higher dreams,

You've soared on life's expansive beams.

Now you're grown, confident and strong,

A woman who knows right from wrong.

It fills me with pride, what you've become,

Skilled and kind, intelligent and some.

Today we celebrate not just your birth,

But the impact you've made on Earth.

Keep shining bright, in all you do,

To the woman you've become, hats off to you.
2. Time's Loving Art
Time has a way of painting experiences into who we become. This poem explores how your daughter, now a grown-up, has turned into a masterpiece through the years—a canvas filled with love, wisdom, and resilience.
Time has brushed you with loving strokes,

Through joys and tears, life's complex jokes.

Once my baby, now a lady fair,

You've become a gem beyond compare.

With each year, new colors blend,

A mix of roles: daughter, sister, friend.

You've faced each challenge, played each part,

Turned life's struggles into loving art.

On your birthday, we stand and gaze,

At the beautiful woman you continue to raise.

Time's loving art has made it clear,

You're a masterpiece, year after year.
Explore More Related Poems:
Birthday Poems for Dad in Heaven
Birthday Poems about Mother in Law