What's another word for important? here is the list of different words that we can use instead of important. We are not bound to use old word IMPORTANT everywhere. There are a lot of synonyms for important that can be used. So, try to use other words for important in English writings and conversaion.
What's another word for important – Synonyms for important
big

Cardinal

chief

Consequential

Considerable

critical

Decisive

dominant

Dominant

Earthshaking

Essential

Eventful

Evidential

Exigent

extensive

Famous

Far-reaching

foremost

Fundamental

Great

imperative

Indispensable

Influential

key

Keynote

Large

Main

major

Meaningful

Momentous

Monumental

Necessary

Notable

Noteworthy

Overriding

paramount

Pivotal

Portentous

Powerful

predominant

Pressing

prime

principal

Prominent

relevant

Remarkable

Salient

Serious

Significant

Substantial

Supreme

Urgent

Valuable

Vital

Weighty
IMPORTANT SYNONYMS WITH Examples
Other words for Important with Examples
It was a big meeting.
Rome as a cardinal protector of the Spanish nation.
He was the very chief ruler of that great city.
The change to the schedule is not consequential.
His note pad was ever-present and he spent a considerable amount of time on the phone.
Panama was a critical issue in Pakistan.
You must be decisive and persistent to succeed in this competitive field.
The company is now dominant in its market.
His marriage was an earth-shaking event.
This matter is of essential importance.
The coming autumn should be eventful.
It is possible to foresee other evidential problems.
My dad has always been an exigent man.
He possesses extensive knowledge of banking.
He is a famous architect.
You have already implemented far–reaching reforms.
That should be foremost in all of your minds.
The revolution brought about a fundamental change in the country.
Quaid e Azam was a great leader.
Water is imperative for survival.
The computer is indispensable to modern life.
Ways to say Important
This is an influential act.
Ali had a key role in the meeting.
Its keynote is sovereignty.
This is very large.
We forget the main thing.
He has a major role in PTI politics.
The test did not produce any meaningful results.
The momentous news was that war had begun.
We were thrilled beyond words, a monumental success.
Maybe it wasn't necessary to say anything.
This is for sure notable.
He gave several noteworthy performances during his short career.
The weather is the overriding factor in deciding whether to cancel the picnic.
Staying on schedule is paramount to ensure confidence in the system.
This speech was a pivotal event in Borlaug's life.
There was nothing portentous or solemn about him.
He is a powerful leader of this Nation.
She is predominant among new writers.
Poverty is a more pressing problem than pollution.
When a person dies, the prime suspect is always the surviving spouse.
Air pollution is a principal cause of respiratory ailments.
There were several prominent Boston physicians among them.
Give me some relevant facts, please.
He has gained a remarkable achievement.
Only salient points can be indicated.
He is a very Serious case of Corona.
My Health is very significant to me.
A substantial number of people commute to work each day.
It's a matter of supreme indifference to her.
I have an urgent piece of work at home.
Your talk is valuable to be.
This cup is vital to Ali.
Your point is weighty.
Synonyms for Important (Infographics)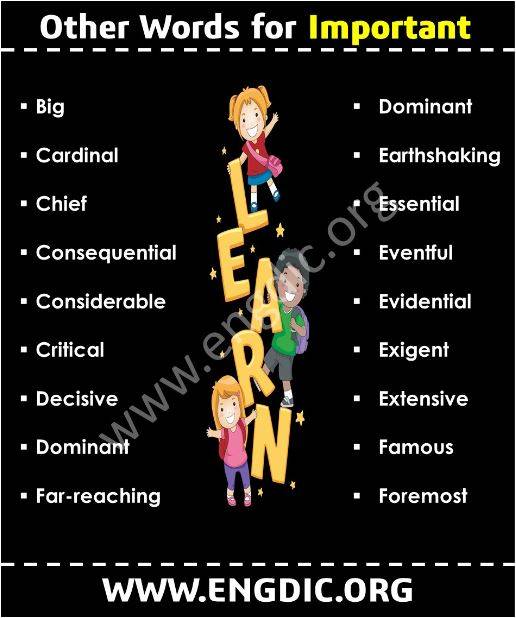 Another word for Important – Synonyms for important PDF