10 examples of modals Pdf!
Modal Verbs Definition
Model verbs are a kind of helping verbs. They show the mood of a verb such as ability, possibility, obligation, permission, advice, or some other mood.
Some Model verbs are:
Can
Could
May
Might
Shall
Should
Will
Would
Must
Formula of Modal Verbs
Subject + Modal Verb + Main verb
Examples:
I can win the race. 10 examples of modals
You should have a walk daily.
Modal Verbs – Video
Different Modal Verbs with Examples
Can
We use this verb in the case of importance, asking permission, and Possibility.
Examples:
Ali can win the race.
Smoking can cause cancer.
Can Ali come with me for dinner?
Will/Shall
Will/shall is use in case of wish, desire, will, confidence, in the future.
Examples:
I shall visit the China the next month.
Ali will receive us at the railway station.
Will you lend me your camera?
Will you go with me?
Shall I close the door?
Shall I stay with you?
Must
Must is used in the case of obligation, firm, conclusion, necessity.
Examples:
You must see a doctor at once.
John must study hard.
My watch must be broken
He must have done this mistake.
Might/May
May/Might is used in case of possibilities and past (Might).
Examples:
I may/might go to the market.
It may/might rain today.
May is also used in case of request.
Examples:
May I use your pen?
May I come in?
In case of Strong Motive.
Examples:
He worked hard so he may pass.
He worked hard so he might pass.
In case of Prayer/invocation
Examples:
May you live long!
May he go to hell!
Would
We use would in case of question, permission, polite request, a habit of the past.
Examples:
Would you like salad with your meal?
Where would you like to eat dinner?
If you hired a car, you would reach in time.
If you worked hard, you would have pass the exam.
When I was a student, I would go swimming every day.
When John lived in America, he would write me long letters.
Could
Used for possibility in past, polite request, Conditional sentences and ability.
Examples:
You could help me in that crisis.
They could be dangerous.
When I was young, I could run very fast.
Could you help me move this sofa?
Could you give me a lone?
If you worked hard, you could pass the examination.
Should
Used for urgent work or moral duty.
Examples:
You should help the poor
I should reach the school in time.
Ought (to)
Used for moral duty.
Examples:
You ought to help the needy.
He ought to obey his parents.
Infographics (Modal verbs Examples)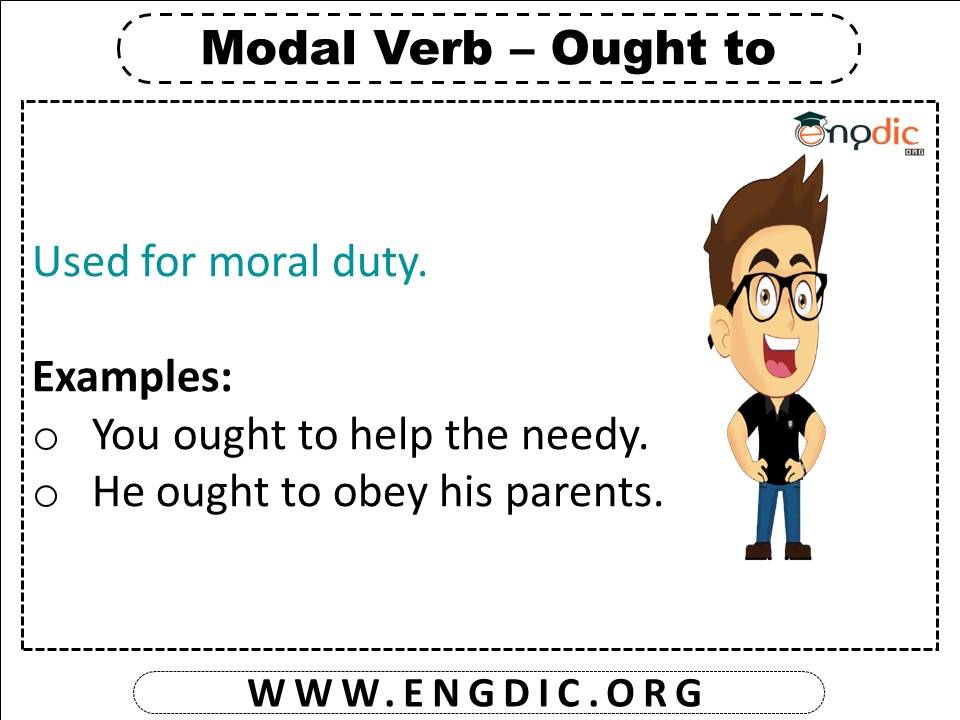 Download this lesson of 'Examples of modals, Definition and Sentences Pdf'